Did a woman just get arrested for coughing on Uber driver?
A passenger has been arrested for assaulting her Uber driver and violating COVID-19 SOPs in San Francisco.
A viral video captured three women coughing on the Uber driver named Subhakar Khadka, scolding him and tearing off his mask as he asked one of the passengers to wear a mask.
The behavior captured on video in this incident showed a callous disregard for the safety and well-being of an essential service worker in the midst of a deadly pandemic. Khadka noticed that one of the three women he picked up on Sunday afternoon was not wearing a mask and asked her to wear one.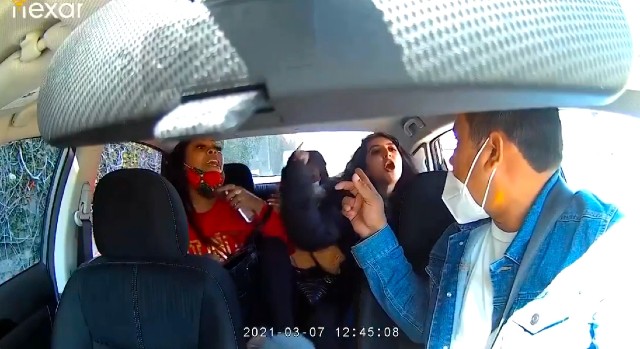 However, after he pulled into a gas station so that one of her friends could buy her a mask, the women started taunting Khadka, according to videos posted by one of the passengers on social media.
As her friend returned with a mask, the maskless passenger said she refused to wear it. She not only cursed the driver, but also ripped off his mask, and coughed on him several times then grabbed the driver's phone too, to which Khadka said he was ending their trip and asked them to leave his car.
Read more: CTD arrests most wanted terrorist in Karachi
The San Francisco Police Department however arrested the women two days after the incident. According to police, when three women finally left his car, one of the passengers reached into an open window and sprayed what is believed to be pepper spray into the vehicle and toward the driver. The viral video has been viewed more than 3 million times as of early Friday.