Cattle market of sacrificial animals setup at Karachi Northern Bypass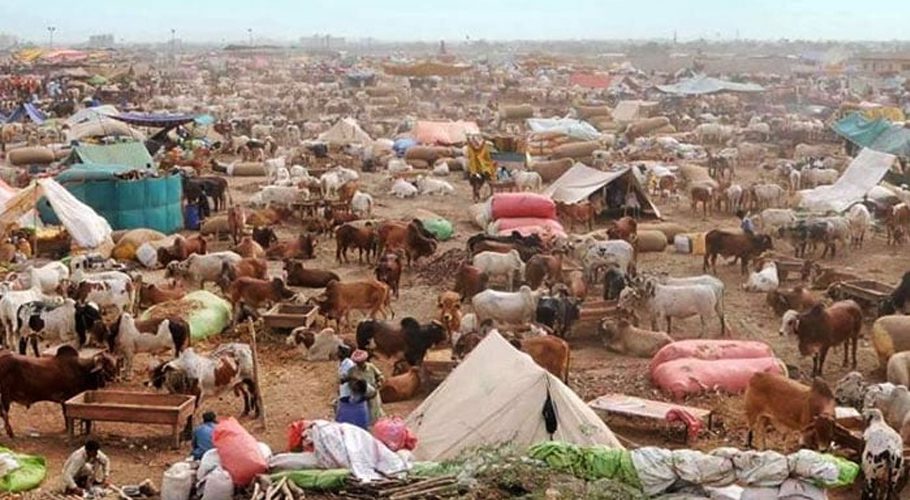 KARACHI: Asia's largest cattle market has been set up ahead of the arrival of Eid-ul-Azha in the Sindh capital.
According to the details, this year Northern Bypass has been chosen as Asia's largest cattle market instead of Super Highway in Karachi. Citizens can reach the left side of the traffic signboard to the Malir Mandi, 7 km from Jamali Bridge
After turning left, one can reach the cattle market at a distance of 10 km. Around 8 checkpoints have been established for the safety of the citizens, while effective lighting arrangements have also been made at night.
Some media reports have claimed that more or less 40,000 small and big animals have arrived in the market from across the country. Buyers are visiting the market along with their friends and family and the prices of various animals are being ascertained.
Read more: 8 posts of police and rangers established for cattle markets
It should be noted that earlier the arrival of animals in the cattle market Northern Bypass continued, 5 days ago more than 11,000 sacrificial animals became the adornment of the cattle market Northern Bypass.
According to the sources, the animals coming to the cattle market are being entered from the marshaling area, and the medical examination of the sacrificial animals is also being done.