Beijing conducts mass testing as new cluster triggers lockdown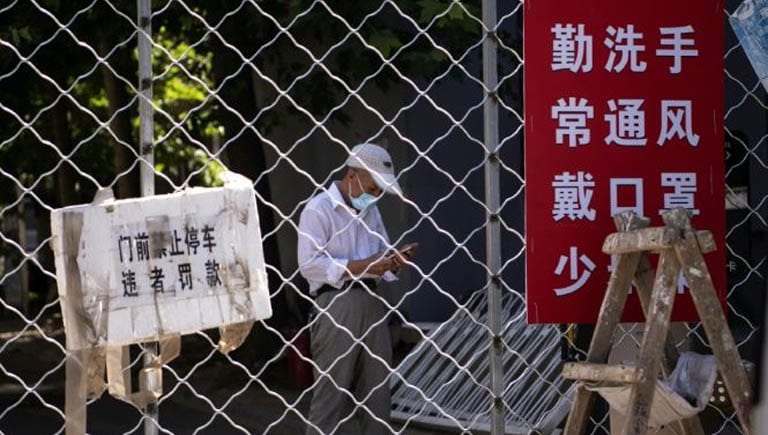 BEIJING: China carried out mass testing for the coronavirus after a new outbreak in Beijing prompted travel warnings across the country amid fears of a resurgence of the disease.
The deadly virus had been brought largely under control in China through strict lockdowns imposed early this year but have since been lifted. A fresh cluster linked to a wholesale food market has sparked widespread alarm and raised the possibility of a return to lockdown restrictions.
The National Health Commission (NHC) of China reported 57 new infections on Sunday, of which 36 were local transmissions in Beijing, all linked to the Xinfadi market.
Another two domestic infections were in northeastern Liaoning province and were close contacts of the Beijing cases. The 19 other infections were among Chinese nationals returning from abroad.
Liaoning was among several provinces to advise residents against travelling to Beijing due to the new outbreak along with cities such as nearby Tianjin and several in Hebei province, which surrounds Beijing.
Local authorities said people entering from Beijing would have to quarantine, state media reported. In the captial, lockdowns have been imposed on a very small part of the city that includes eleven residential estates near the market which supplies most of the city's fresh produce.
Officials have planned to carry out virus tests on 46,000 residents in the area surrounding the market and had set up 24 testing stations. Everyone who works in the market also has to undergo testing.
So far 10,881 people have been tested in the area with another eight cases diagnosed on Sunday. They were not included in the NHC's tally earlier in the day that covered the previous 24 hours.
Efforts have underway to trace those who had visited the market with companies and neighbourhood communities messaging staff and residents across the city to ask about their recent movements.
The new coronavirus first emerged late last year and one of the first clusters was from a market in the central city of Wuhan that sold wild animals for meat.
The latest outbreak in Beijing has turned the spotlight on the hygiene of the city's food supply chain. The virus was detected on chopping boards used to handle imported salmon and major supermarkets had removed the fish from their stocks.
Beijing authorities ordered a city-wide food safety inspection focusing on fresh and frozen meat, poultry and fish in supermarkets, warehouses and catering services.
City authorities have closed nine schools and kindergartens near the market, while sporting events and cross-provincial tour groups have been stopped.