52 personnel injured, 15 vehicles damaged in clashes: Islamabad Police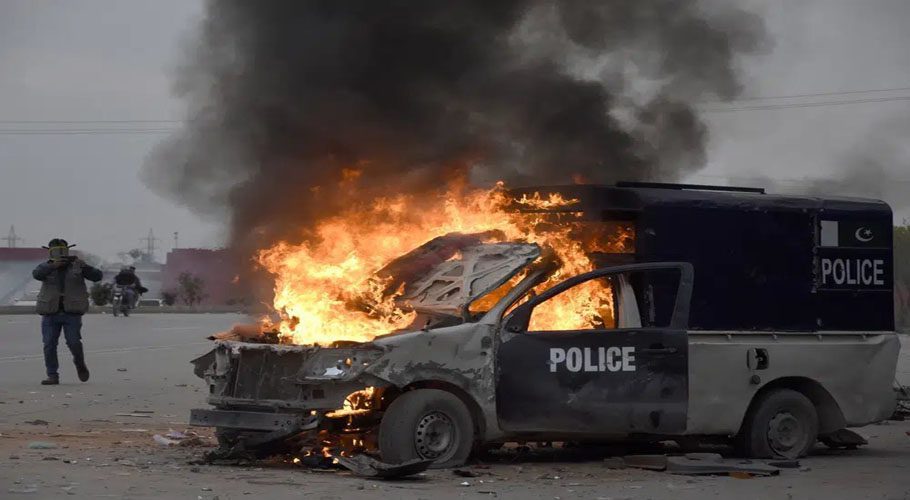 ISLAMABAD: The police of Federal Capital Territory have alleged that at least 52 personnel of police and other forces were injured after angry workers pelted stones at them when PTI Chairman was arriving in Judicial Complex to appear in Toshakhana case.
PTI Chairman Imran Khan, who had left Lahore for Islamabad early Saturday morning, struggled for several hours to appear in the court of District and Session Judge Zafar Iqbal as heavy contingents of police and security personnel, deployed from Motorway Toll Plaza till the gate of Judicial Complex turned out to be prime source of hurdles in the way of him reaching on time.
Islamabad Police had allegedly resorted to tear gas shelling as the vehicle of Imran Khan approached main gate of the Complex, which triggered violent clashes between the workers and supporters of PTI and security personnel.
As per orders of the session court, the former premier signed his attendance sheet while sitting in his vehicle after he failed to reach the courtroom due to clashes.
پی ٹی آئی چئیرمین عمران خان کی جوڈیشل کمپلیکس پیشی پر مشتعل کارکنوں کی اسلام آباد کیپیٹل پولیس اور دیگر معاون فورسز کے اہلکاروں پر پتھراؤ سے 52 اہلکار زخمی ہوئے۔

علاوہ ازیں اسلام آباد پولیس کی 12 اور پنجاب پولیس و FC کی 3 گاڑیوں کو نقصان پہنچا جن میں سے اسلام آباد پولیس⬇️

— Islamabad Police (@ICT_Police) March 18, 2023
Hours after his return to Lahore, the Islamabad Police took to Twitter and posted a statement, alleging  that 12 vehicles of Islamabad Police and 3 vehicles of Punjab Police and FC were damaged in the clashes, out of which 4 were completely burnt.