25 killed as gunmen storm Sikh temple in Kabul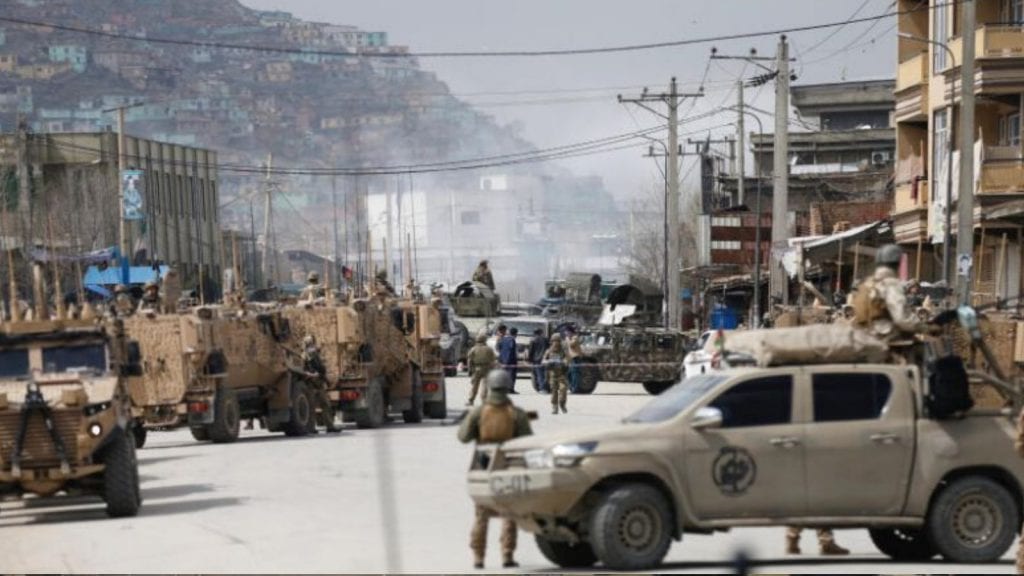 KABUL: At least 25 people were killed and more than eight others were wounded as unidentified gunmen raided a Sikh place of worship in the Shorbazar area of Kabul in the Afghan capital.
According to Afghan media, the incident began around 7:45 am local time in Kabul city, and 80 people including women and children were rescued. Security forces and foreign troops responded and killed all of the attackers, the government said.
A Taliban spokesman denied responsibility for the attack despite Sikhs been the target of militants in the country. Local reporters heard explosions in the area before security forces responded and transferred victims of the attack by ambulance to hospitals.
Several hours after the early morning attack was launched, Interior Ministry spokesman Tariq Arian said in a message to journalists an operation by the security forces was over and all of the attackers had been killed. The ministry later confirmed 25 people who had been in the religious compound had been killed, eight wounded and 80 rescued.
An official with Afghanistan's NATO mission said the response to the attack had been led and executed by Afghan forces but they had received some advice and assistance from NATO.
The Sikh community in Afghanistan numbers fewer than 300 families. In the late 1980s, there were about 500,000 Sikhs scattered across Afghanistan, many from families that had been there for generations, but most fled after years of civil war and the rise of the Taliban.
Human rights activists and countries including the United States, India and Pakistan condemned the attack. In 2018, a suicide bombing targeting the Sikh community killed more than a dozen people in the eastern Afghan city of Jalalabad.
The United States last month struck a deal with the Taliban on the withdrawal of US-led international troops. Pompeo said that the Taliban had abided by its promise not to attack US forces and that the United States would keep up its commitment.
The attack comes a day after the United States said it would cut aid to the government by $1 billion over frustrations that feuding political leaders could not reach an agreement and form a team to negotiate with the Taliban.
US Secretary of State Mike Pompeo made the surprise trip in hopes of reviving a landmark US accord with the Taliban to end America's longest war and, stopping in Qatar on his way back.
Pompeo voiced disappointment that President Ashraf Ghani and his rival Abdullah Abdullah could not bridge their differences when he met them in Kabul. "Their failure has harmed US-Afghan relations and, sadly, dishonours those Afghan, Americans and coalition partners who have sacrificed their lives and treasure in the struggle to build a new future for this country," Pompeo said in a statement.
Pompeo said that the United States was immediately reducing $1 billion in aid and would pull another $1 billion in 2021. He said the United States would consider further cuts, including withdrawing support at any future donor conference.
Pompeo also assured that the United States would go ahead with its pullout of troops from Afghanistan and emoving all 13,000 by next year. Pompeo later met for an hour in Qatar's al-Udeid Air Base, which is also home to US forces, with three Taliban leaders including chief negotiator Mullah Baradar.