World Women's Day: 'My body, my choice' a slogan to quell inequality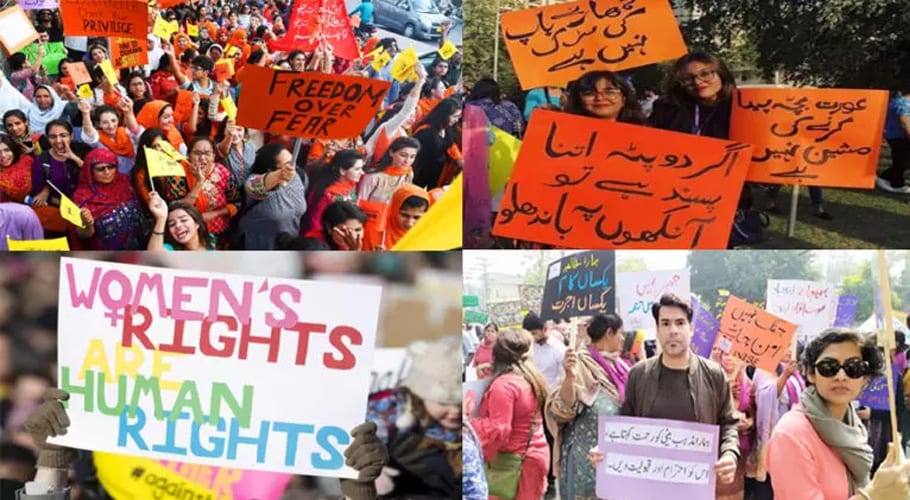 Countries around the world including Pakistan are celebrating International Women's Day today (Monday 8th March) to raise awareness against gender bias equality and women empowerment.
The main purpose to celebrate world Women's Day is an opportunity for the international community to come together and commemorate the many achievements by women in different fields, and reflect upon what more requires to be done.
In different cities across Pakistan, the 'Aurat March' rallies were held on the occasion of International Women's Day also has a special reputation during which slogans like 'my body, my choice' were chanted, let's talks on different aspects of world Women's Day and Women's March.
History of World Women's Day
More or less 113 years ago today, in 1908, 15,000 working women protested in New York, the capital of the United States, against minimum pay, the right to vote, and the long, patient, and unbearable working hours.
Later in 1910, the first International Conference of Women in Copenhagen was attended by about 100 women from more than 17 countries. At the conference, it was decided to mark the International Day for the Elimination of Violence against Women. Finally, the United Nations formally announced to celebrate March 8, as International Women's Day.
The formal celebration of women's day in Pakistan started in 1990. However, that very day didn't grab much interest. Alternatively, since 2018 Aurat (Women) March garnered the attention of the entire world.
'Aurat March'- A unique style  
The idea for Aurat (women) March started when a small group of women decided to mobilize their networks and gather in a park in Karachi on World Women's Day to demand an end to harassment and violence.
The highlights of the 'Aurat March' were controversial slogans picked up and circulated by the media- both mainstream and social. The popular slogans of the event are "my body my will" (Mera jism Meri Marzi) lead to even more outrage and a clear divide between Pakistani society. 
In the Pro, Aurat March women reason these slogans as a means of safeguarding their bodies-considering no one to exploitation, sexual assault and victim-blaming. Conservative groups in Pakistan have criticized the slogan for being unnecessarily provocative and in contradiction with Pakistan's cultural norms.
In fact, it is no little step in a traditional Muslim country where several women often don't feel secure in public places because of the harassment they often tolerate. Those who took part in the event last two-years faced extreme backlash, particularly online. Some of these women even disclosed that they had received death and rape threats afterward.
On the other hand,  several including, right-wing and religious groups have deemed the march goes against Islam and cultural norms, even judicious factions have taken the matter with what the marchers themselves admit is a provocative approach.
While some of the people linked the participants of these Aurat March with feminism and called them feminists.
The Feminism
Feminism is not a disease but a theory. The term feminism can be used to describe a political, cultural or economic movement that seeks equal rights and legal protection for women. The Theory at its core is about the equality of men and women.
Feminism involves political and sociological theories and philosophies concerned with issues of gender difference, as well as a movement that advocates gender equality for women and campaigns for women's rights and interests.
Islam and Feminism
With regard to feminism, it is also important to understand that feminism is not an Islamic idea and is also not the kind of equation that Islam spoke about 1400 years ago. The fact is that Islam speaks of the equal rights of men and women, however, Islam has imposed certain responsibilities on women which are not obligatory on men.
For example, the Holy Quran contains clear verses that Women should have a full veil arranged before leaving the house. Islam gives men the edge over women in some aspects, and there is a clear difference between Islam and feminism in terms of inheritance rights.
Appropriate and serious demands
The Aurat March had since evolved into wider progress, including transgender people, asking better regulations to defend females and enforcement of presented laws, as well as changing attitudes and elevating awareness.
For the last three years the key demands are economic justice for women, raise awareness against gender bias equality and women empowerment as highlighted in the manifesto.
It is not at all the case that no serious demands were made on the occasion. Controversial posters on social media slammed women, but serious demands were ignored. Participants of the event faced criticism and maltreatment in the mainstream media, alongside intense trolling online.
The truth is that women are powerless to demand their human rights without being put in very genuine danger underlines just how significant the Aurat March is.
According to a report, women's own home has been declared the most unsafe for them. In 2019, 50,000 women were tortured and killed in their own homes. The killer or accomplice was their own husband, parents, brother or family.
The antagonism directed at what should be Pakistani icons — Malala Yousuf Zai, Mukhtar Mai, among them — is telling. The weight of gender-based chronological bigotries and racially ingrained values stay intact in Pakistan, even as rising numbers of females find the courage to disobey them.
A solution to the issue
Over the past few years in Pakistan, there has been a few forward steps on the legislative facade with a slew of pro-women laws that, in the cause at least, improved the status of women by criminalizing different kinds of gender-based violence.
However, it is time to understand the value of women, the real problem for women is not to get opportunities for equality, work, marriage, sex abuse, divorced marriage, inheritance, unwanted marriage and the pursuit of education.
It is imperative to debate Women March's achievements, purpose, need and execution-style as Women's day is a moment of celebration, not an opportunity to attack.
Finally, the Aurat March and all the slogans connected to this, effort to make a gender-equal planet, where a female is considered as an equal human as that of a male. The oratory "Mera jism, Meri Marzi", 'My body, my choice' is the expression of that.