World Literacy Day: Quality education still a distant dream for Pakistanis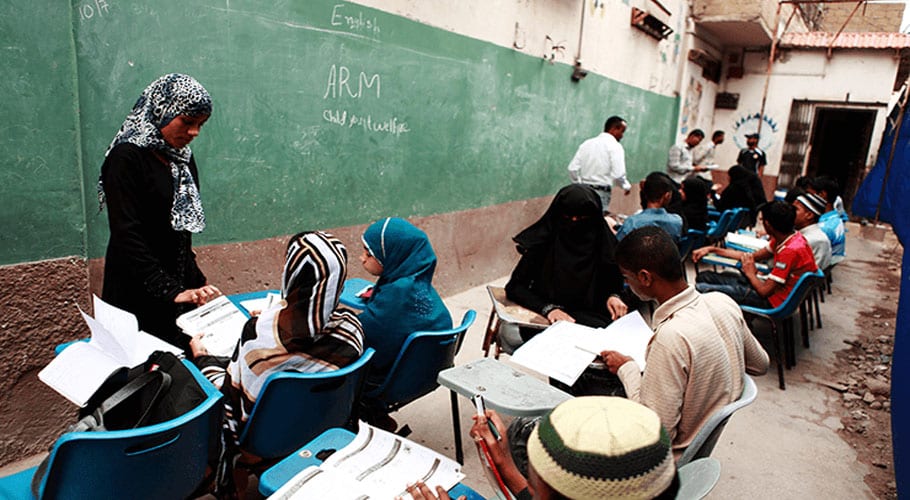 UNESCO declared the first-ever International Literacy Day
in 1966,
and since then it has been celebrated annually on September 8, in an effort to highlight the importance of education to communities and individuals across the globe.
The aim of World Literacy Day
This day is celebrated in an effort to combat these problems and to provide a quality education for all. Through the course of the years, the United Nations (UN) has given this day special themes keeping in line with the current environment.
Education in the COVID-19 crisis
For the year 2020, the theme has been kept in line with the threat of the global Covid-19 pandemic, and it focuses on "Literacy teaching and learning in the Covid-19 crisis and beyond."
The COVID-19 pandemic has disrupted the proper flow of our society as a whole.
For children primarily, their education has been severely disrupted as the majority of the school around the world have been closed since the start of the pandemic.
According to the World Literacy Foundation, more than 190 countries closed their school which affected the education of approximately 1.27 billion children and youth.
For the celebration of International Literacy Day, the UN is organizing online seminars and talks that go over these pertinent questions.
The main themes of World Literacy Day 2020, teaching and learning in the COVID-19 crisis and beyond: the role of educators and changing pedagogies'. 
Education and the COVID-19
According to a report issued by UNESCO, an estimate of 87 percent of the student population in 165 countries is facing the closure of educational institutions due to COVID-19.
Furthermore, around 1.5 billion students across the globe are unable to attend educational institutions due to the steps taken to limit the spread of the virus.
The report further stated that 1,524,648,768 (87.1% of total enrolled learners) are affected learners around the world.
Breakdown number of student affectees
In Pakistan, the number of affected learners or students stands at 46,803,407 reported figures. A further breakdown of the number of student affectees at the pre-primary level is 8,636,383, at secondary of 13,357,618 and at tertiary level of about 1,878,101.
However, this is not the first time that Pakistan has practiced the closure of schools. Schools on a provincial level were previously forced shut due to smog and terrorism that gripped most parts of Pakistan.
Lessons for Pakistan
Pakistan continues to resolve several of its problems with temporary solutions.
Closure of schools during smog should have been taken as a test to cope with uncertain circumstances or natural calamities that may force them to halt access to education.
So, Pakistan must work to digitize its education system while also increasing its internet accessibility.
Although schools and colleges have been asked to promote all students to the next grades and not to fail the students; this too is a temporary fix to a problem that is bound to disturb the entire academic calendar, yet the only decent compensation.
Moreover, In order to curb such problems in the future, Pakistan must modernize the means of education and the access to technology, including the internet, in the most far off places of the country.
In addition, educational institutions can partner with digital networks to provide a channel for exclusive digital education.
The issue of COVID-19 also exposes the lack of scientific research in the country where higher education institutions play a crucial role. which needed to be addressed.
It is also a good time for the Ministry of Education along with the other stakeholders to prove their genuine commitment to education – a sector that has otherwise become a source of making big bucks at the cost of learning.
Pakistan's literacy rate
The country's overall literacy rate remains static at 58 percent with a literacy rate of males 70 percent and 48 percent of females, as due to the Population and Housing Census, the Pakistan Social and Living Standards Measurement was not carried out for 2017-18.
According to the Pakistan Economic Survey, 2017-2018, the literacy rate for entire Pakistan, includes ten years old and above is 58 percent.
The national net enrollment for primary level for overall Pakistan stood at 54 percent while Punjab leading the rest with 59 percent, followed by Khyber Pakhtunkhwa with 53, Sindh by 48 percent and Balochistan 33 percent.
Similarly, the gross enrollment rate for Pakistan is 87 percent and again Punjab in the lead with 93 percent, Khyber Pakhtunkhwa 88 percent, Sindh 78 percent and Balochistan 60 percent. The gross enrollment for males is 94 percent and 78 percent for females.
Education Budget in Pakistan
The government has allocated Rs. 83.3 billion for Education Affairs and Services in the federal budget for 2020–21 against the revised allocation of Rs. 81.2 billion for the ongoing fiscal year, showing an imperceptible rise of around 2.5%.
Pakistan's public expenditure on education as a percentage to GDP is estimated at 2.3% in the fiscal year 2019-20, which is the lowest in the region.
Compared to international benchmarks, the allocated budget for education is lowest as of the agreed targets of 15-20% of the total budget and 4% of the GDP.
With the achievement of Sustainable Development Goals (SDGs) by 2030 insight, it is important to note the challenges of limited public financing for education and its efficacy.
Composition of Education Budget
The government has reserved Rs. 2.931 billion for pre-Primary & Primary Education Affairs for 2020-2 against Rs. 2.83 billion for 2019-20.
Rs. 7.344 billion reserved for Secondary Education Affairs & Services for 2020-21 against Rs. 6.718 billion for 2019-20, Rs. 1.237 billion for administration against Rs. 1.407 billion for 2019-20 which was later amended to Rs. 727 million.
According to the Human Development Report, 2019 Pakistan is ranked 152 out of 189 countries in the United Nations Development Programme's (UNDP) Human Development Index (HDI) ranking.
Pakistan has not demonstrated any progress in main educational indicators, such as literacy rate, gross enrolment ratio, and expenditure on education, as compared to the adjoining regional territories.
World worst country
Pakistan was described as "among the world's worst-performing countries in education," at the Oslo Summit on Education and Development.
Across Pakistan, generation after generation of children, especially girls, are locked out of education—and into poverty.
Thirty-two percent of primary-school-age girls are out of school in Pakistan, compared to 21 percent of boys.
By grade six, 59 percent of girls are out of school, versus 49 percent of boys.
Only 13% of girls are still in school by ninth grade. Both boys and girls are missing out on education in unacceptable numbers, but girls are worst affected.
Too many girls drop out of school prematurely, especially in low-income areas and low educational achievement for girls has negative impacts not only for them but also for their children and household, as well as for their community and society.
Thus, education being predominantly a provincial subject, the burden of the responsibility to rectify the state of education lies mostly in the federal government. 
The country cannot defeat its education crisis without securing at least 12 years of education for every Pakistani girl.
By allocating at least 6 percent of the GDP to education Pakistan can then guarantee the development of a structured and improved infrastructure of educational policies.
Financing human capital, such as education, health and nutrition, are the foundation for building a progressive foundation for human security and society.