PSX fails to maintain control as KSE 100-index sheds 310 points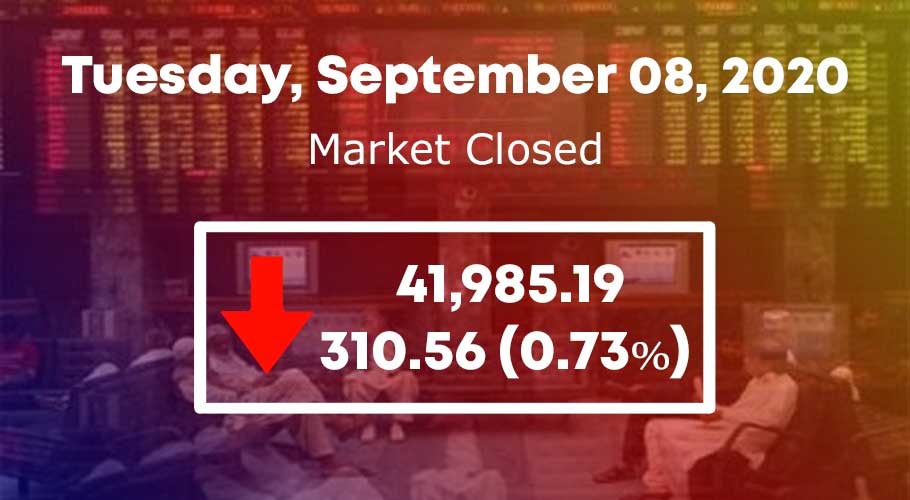 KARACHI: The Pakistan Stock Exchange (PSX) today (Tuesday) has failed to retain the upward trajectory as the benchmark index loses 310 points and closed at 41,958.19 points.
Gaining 232.74 points the benchmark KSE 100-index touched an intraday high of 42,528.49 in the initial hour. The index lost control and dropped to an intraday low of 41,912.60 losing 383.15 points.
However, it ended lower by 310.56 points at 41,985.19. Meanwhile, the KMI 30 index lost 307.44 points and closed at 67,729.13 points, while the KSE All Share index settled with a loss of 166.52 points at 29,796.30.
Overall market volumes crossed the 800 million mark and were recorded at 884.36 million (up by 18.09 percent on DoD basis). Sectors erasing the KSE 100 index's gains included the Banking sector (79.47 points), the Oil and Marketing sector (35.80 points), and the Chemical sector (35.17 points).
Hascol Petroleum Limited (HASCOL -7.47%) led the volume chart with 133.99 million shares exchanged, followed by Pakistan International Bulk Terminal Limited (PIBTL -1.66%) and Power Cement Limited (POWER -5.16%).
Global crude oil prices also followed the declining trend with WTI crude oil price declining by 4.78% to $37.87 while Brent crude oil price fell by 2.64% to $40.91