Special Senate session denounces Indian atrocities in IoK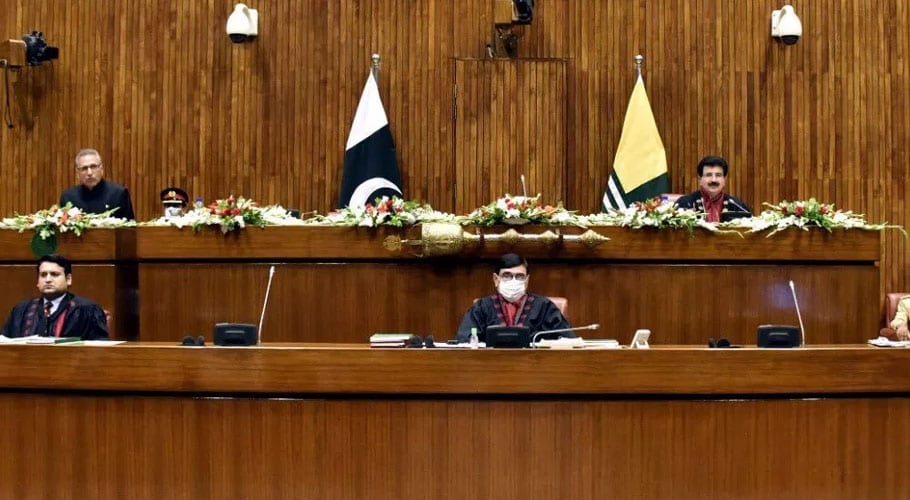 ISLAMABAD: A special session of the Upper House was held today (Wednesday) on the occasion of Kashmir Siege Day to express solidarity with the people of occupied Kashmir and denounce the Indian atrocities in the region.
Speaking on the occasion, President Arif Alvi asserted that Pakistan will always support the people of Kashmir in their struggle for their right to self-determination.
The President said that Pakistan has always waged a peaceful struggle for resolution of the outstanding Kashmir issue and will continue to do so in the future. "The new political map is actually based on reality," he added.
President Alvi further said that Indian has unleashed a new wave of oppression and atrocities in Indian occupied Kashmir (IoK) after illegally revoking Article 370. "The valley had been turned into a prison" he added.
"Extrajudicial killings have increased in the Occupied valley while the Kashmiri leadership have illegal been detained," he remarked.  The President also said that more than 13000 Kashmiri youth have also been arrested over the last year.
He also pointed out other crimes that have committed against the Kashmiri people, which includes communication blackout, stopping medical supplies, and access of humanitarian agencies to the territory.
"The illegal action of last year was immoral and contrary to international laws including Geneva Convention," he informed. He also said that India scrapped the special status of occupied territory to change its demography of Kashmir. "The fascist Hindutva policy is visible in Indian Occupied Kashmir," he concluded.
'Sherry Rehman'
On the occasion, Pakistan People Party (PPP) Senator Sherry Rehman said that Istehsal is a soft word, the emotions of Pakistanis run deeper than its meaning.
Referring to Indian atrocities, she said that the largest occupation in the world took place in [occupied] Kashmir. "India has included even Azad Kashmir in its political map. This was a matter of Kashmiris' right to self-determination," she added.
Sherry Rehman also urged the international community to take notice of the Kashmir situation. She acknowledged that among the Muslim Ummah, only Malaysia and Turkey were standing with Pakistan.
"Narendra Modi had stated in his manifesto that the country will revoke Kashmir's special status," she remarked. Rehman regretted that the past year had proven to be difficult for the people of occupied Kashmir.
'Babar Awan'
Adviser on Parliamentary Affairs Babar Awan has asserted that the entire nation, including all political parties, is united on the Kashmir issue. "Over the last two days, important steps have been taken and now all roads leading to Kashmir end up at the Srinagar highway," he added.
Referring to the new political map, Babar Awan said that all the future discussions regarding the matter would be made in the light of the new map. He also criticized India over the brutalities and illegal annexation in Occupied Kashmir. "