PSX plummets as global markets crash, oil prices plunge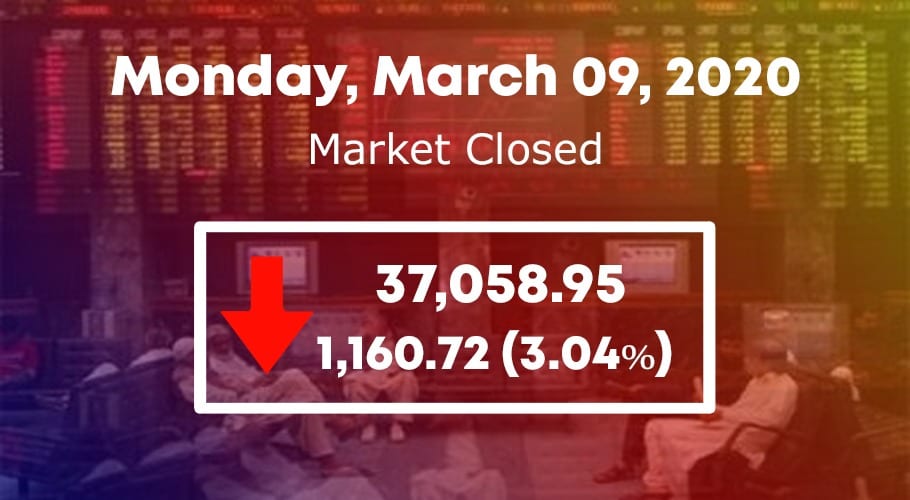 KARACHI: The Pakistan Stock Exchange plummeted on Monday as global markets crashed amid rising fears of the spread of coronavirus and its effects on the global economy.
The stock market received a hammering with a crash in oil prices creating chaos among energy firms. Oil plunged over 25 percent after top exporter Saudi Arabia launched a price war in response to failure by leading producers to strike a deal to support energy.
Saudi Arabia launched an all-out war with the biggest cut in prices in the last twenty years, after a failure by OPEC to clinch a deal to cut production. This lead to the two main oil contracts as Brent crude sliding to $33.60 a barrel and West Texas Intermediate to about $30.15 a barrel.
Governments and central banks have prepared stimulus measures as the spread of coronavirus is putting a huge strain on economies and stoking concerns of a worldwide recession. Investors worldwide are shedding riskier assets for safe havens sending gold and US treasury yields to record low.
This caused mayhem at the local stock market as the Pakistan Stock Exchange plunged on the opening day of the week. The benchmark KSE 100 index decline by 1160.72 points, or a decrease of 3.13 percent and closed at 37,0158.95 points before trading was suspended.
As trading resuming on the first day of the week, the stock market plunged by 2,214 points in intra-day trading before noon and even reaching below the 36,000 level. The stock reached its lowest point at 35,917.34 points. The total volume of shares was 251.655 million valued at Rs10.322 billion.
Meanwhile, the lower bench KSE 30 index dropped by a whopping 698.72 points (-4.02 percent) and closed at 16,686.72 points. The total volume of scripts was 157.163 million. Oil and gas exploration companies and oil marketing firms faced the biggest decline in share prices.  The prices of Mari Petroleum ((-87.57), OGDC (-8.09), POL (-25.75) and PPL (-7.83) declined, along with Attock (-21.21), Hascol (-0.95), Burshane (-1.00), PSO (-11.53), Shell (-7.93) and SNGPL (-2.51).
Regional and Asia stock trading floors were a sea of red which also had a toll on the local bourse with Tokyo plunging more than five percent, while Hong Kong dived 4.2 percent. Sydney shed 7.3 percent. Bangkok crashed more than eight percent, Singapore and Jakarta were more than five percent down. Manila and Mumbai lost more than six percent, while Shanghai, Taipei and Wellington were around three percent down. London and Frankfurt plunged more than eight percent at the open, while Paris retreated 4.2 percent.