Private offices to be sealed if over 50% staff found: CM Sindh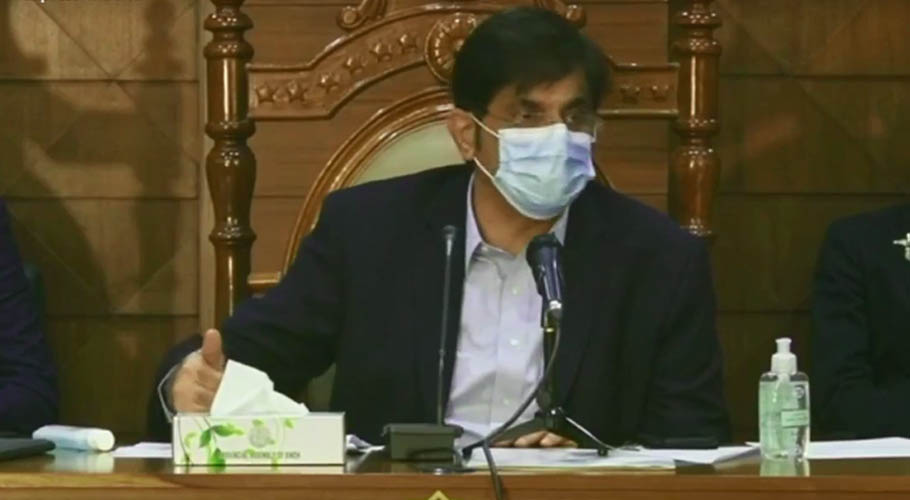 KARACHI: The Sindh government has decided to tighten lockdown restrictions and enforcement of Standard Operating Procedures (SOPs) across the province amid the rising number of cases.
Addressing a press conference after chairing a meeting of the provincial Task Force on Coronavirus, Sindh Chief Minister Murad Ali Shah said that the situation of coronavirus is turning dangerous and people should be careful.
The chief minister said they are closing down all schools, colleges, and universities across the province. He added that private offices will be strictly monitored and those following the policy of 50% attendance will be sealed.
He said only 20% of the required staff will be allowed to come to offices and institutions of the Sindh government. He announced that intercity transport will be closed from April 29.
CM Sindh said said that the number of coronavirus cases in Sindh are less than other provinces. He said the National Command and Operations Centre (NCOC) was asked to stop inter-city and inter-provincial transport but it was not complied with.
He said they have received 562,000 COVID-19 vaccines from the federation and are expected to receive 100,000 jabs of CanSino vaccine today. He said they have made efforts to procure vaccine but they are not available anywhere China and Russia.
Regarding the rising coronavirus cases, he said that the positivity cases in District South are 12 percent, Central District 9 percent and ratio in Malir District was 6 percent.
The presser comes after Sindh government spokesperson Murtaza Wahab announced that all schools, colleges and universities will remain closed in the province due to the rising coronavirus cases in the provinces.
Wahab tweeted that Sindh government offices will operate with an essential staff of 20% only as the country battles a dangerous third wave of coronavirus.
The officials present in the meeting of the task force were briefed on the coronavirus situation in the province. They were told the province presently has 664 ICU bends with ventilators which currently has 47 patients. The provincial government also bans visits in jails due to the rising coronavirus cases.