Police arrests four 'motorcycle lifters' in Karachi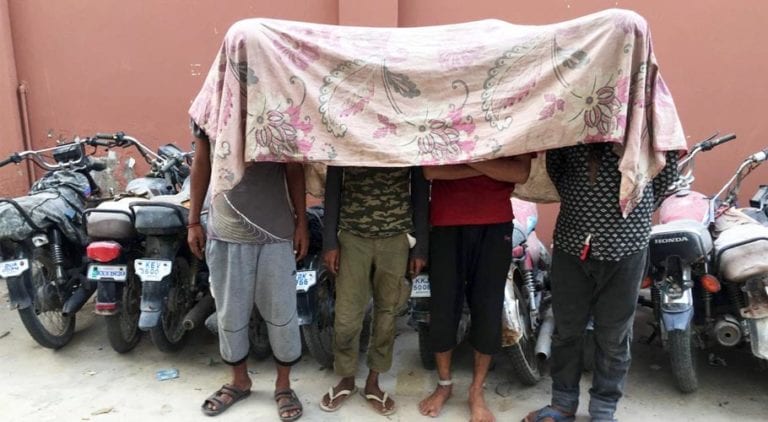 KARACHI: Firozabad police on Saturday arrested four suspects allegedly involved in various cases of motorcycle theft in different parts of the metropolis.
According to SSP East Sajid Amir Saduzai, the suspects were arrested during a series of raids in the area.
The police officials also claimed to have recovered 10 snatched and stolen motorcycles from the suspects' possession.
The suspects arrested were habitual motorcycle snatchers and lifters who used to sell the stolen motorcycles in Balochistan and to scrap dealers, SSP East said, adding that they were also involved drug peddling.
On April 24, Anti Vehicle Lifting Cell of the Sindh police (AVLC) had apprehended two motorcycle lifters from the Lyari area of the metropolis.
According to AVLC officials, receiving information about the lifters a police team conducted a raid in the Lyari area and detained two criminals.
AVLC police said the arrested criminals were involved in several acts of vehicle lifting from the different parts of the city.
They were identified as Sadiq and Imdad.
Police said they were shifted to AVLC police station for further investigation.

Police also recovered stolen motorcycles and hashish from their possession.
On April 20, Special Investigation Unit (SIU) of Sindh police had claimed to arrest four alleged criminals of Lyari gang war from Pak Colony area of the metropolis.
According to a spokesman for Sindh police, on a tip-off, a SIU police party conducted a raid in a house in Pak Colony area and arrested four alleged gangsters, Muhammad Anwar alias Gojh, Majid alias Kalu, Muhammad Sohail and Anwar.
The police team also claimed to have recovered a huge cache of arms and weapons including, two hand grenades, one Kalashnikov with 10 rounds, one TT-pistol with 10 rounds and other explosive materials from their possession.