Pakistan signs agreement to procure LNG from Azerbaijan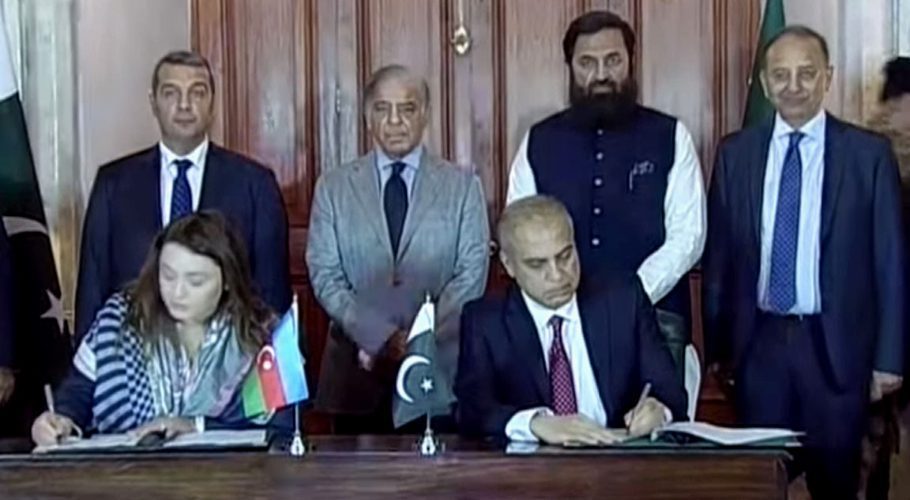 LAHORE: Pakistan has signed a framework agreement with Azerbaijan for LNG procurement on flexible terms. 
The agreement signed between Pakistan LNG Limited and Azeri Company SOCAR in Lahore was witnessed by Prime Minister Shehbaz Sharif.
Speaking on the occasion, the prime minister said the life of this agreement is one year which is extendable to one more year.
He said under the agreement, Azerbaijan will offer one Cargo of LNG each month and it will be up to Pakistan to either accept the cargo or not. He said there will be no financial penalty if Pakistan does not accept the cargo.
PM Shehbaz Sharif termed the agreement as a major milestone in the fraternal relations between Pakistan and Azerbaijan. He especially thanked the President of Azerbaijan for playing a pivotal role in this agreement.
Alluding to his recent productive and fruitful discussions with the President of Azerbaijan, the prime minister said they have given approval to Azeri airline to land in Islamabad, Lahore and Karachi. 
This is a big step forward to promote tourism and investment and exchange of delegations between the two countries, he added.
PM Shehbaz Sharif said an Azeri delegation of horticulture experts is also arriving in Pakistan on his invitation. He said they want to learn from their expertise to make the landscape of Karachi, Peshawar, Quetta and Lahore as beautiful as Baku.
On the occasion, the prime minister also touched upon the matter of recent increase in the power tariff saying it was done so under the agreement reached with the IMF.
He clarified that this increase will not burden about 63 percent of the total domestic consumers. He said 31 percent of the consumers have also been given partial subsidy.
In his remarks on the occasion, the Ambassador of Azerbaijan said that both countries are deepening their cooperation in diverse fields including energy, defence, IT and transport.
He said the two sides are also negotiating a preferential trade agreement, expressing confidence that they will be successful in this regard as well.