KSE 100 index declines by 289 points to close at 40,442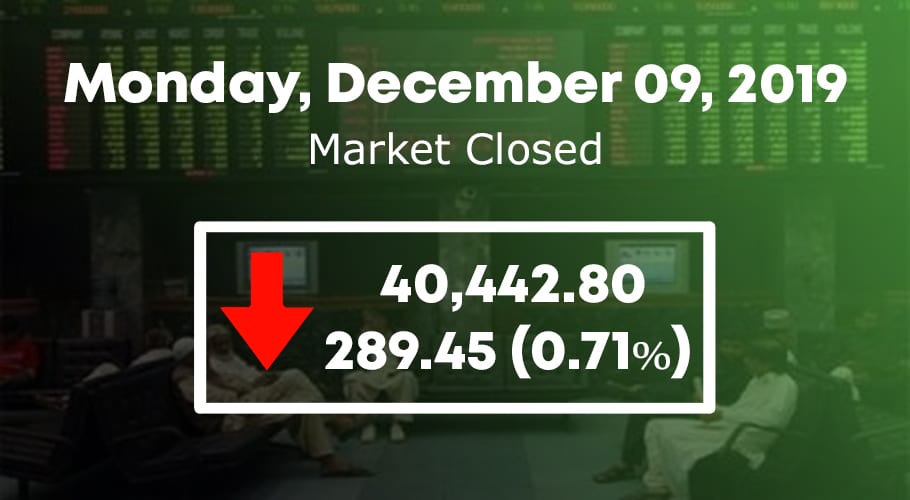 KARACHI: The KSE-100 index on the Pakistan Stock Exchange witnessed a slight decrease on Monday to close at 40,442.80 points.
The bourse opened at 40,804.44 points and saw an overall decline of 289.45 points (-0.71%) in intra-day trading and eventually closed at 40,442.580 points.
The total volume of scripts traded were 217.4 million worth Rs8.7 billion. The highest point reached was 40,916.39 points and the lowest 40,314.94 before it closed down.
Meanwhile, KSE-30 index closed at 18.450.97 after witnessing a decrease of 147.71 (-0.79%). The bourse opened at 18,628.57 points. The total volume of scripts was estimated at 119.5 million.
The top active performers were Unity Foods (-4.80%), Maple Leaf Cement Factory (0.57%), Lotte Chemical Pakistan (0.86%), Pak Electron (-1.27%) followed by HASCOL (4.97%).
Many active stocks also faced a decline includes Bank of Punjab (-2.80%), Fauji Cement (-2.51%), Fauji Foods (-5.90%), and K-Electric (-2.77%).
The top advancers were Orient Rental Modarba (11.90%), FCBL (11.00%), SME Leading (10.76%), and Agri Tech (10.12%). The insurance, credit leasing, and modarba sector firms saw increased investment.