JUI-F chief announces to call off Islamabad sit-in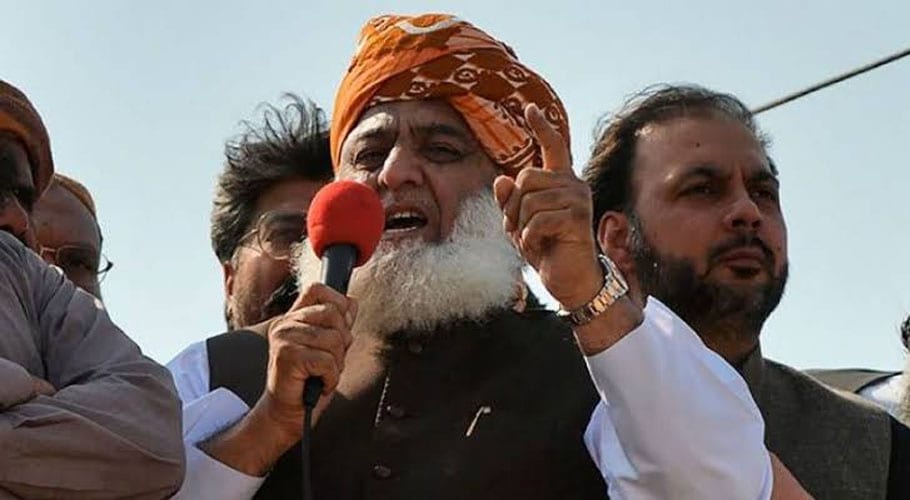 ISLAMABAD: Jamiat Ulema-e Islam (JUI-F) chief Maulana Fazlur Rehman has announced to call off anti-government sit-in in the federal capital.
The JUI-F chief announced that the massive protest would be expanded across the country by blocking major highways and trade links.
Addressing the 'Azadi March' protesters, Fazlur Rehman said, "According to our Plan-B, we are ending our Islamabad sit-in here and will expand protests across the country."
Also read: India, not interested in diplomacy over Kashmir: Masood Khan
He said that the key highways and major roads would be blocked to force Prime Minister Imran Khan to resign and hold re-elections.
He further said that not only major highways but roads and streets of the country would be blocked by 2 pm today.
Maulana added, "I call on everyone from Karachi to Gilgit-Baltistan to come out on the roads and protest against this government."
He said, "This is not a march for only one party but it is for the whole of Pakistan."
Fazlur Rehman urged people to take a full part in the protest.
According to him, the protest is a fight of a common man.
Fazl pointed out that the basic agenda of JUI-F's protest was to get rid of the government.
He added, "We want the prime minister to resign and hold new elections."
The JUI-F earlier decided to end its Islamabad dharna protest and continue them across the nation. 
Azadi March participants have left the H-9 venue and started gathering to leave Islamabad.
The JUI-F chief began his Azadi march on 27th October from Karachi and arrived in Islamabad on 31st October. His motive for the anti-government is the resignation from the prime minister on an immediate basis.