How to watch Oscar-nominated comedy 'Triangle of Sadness'?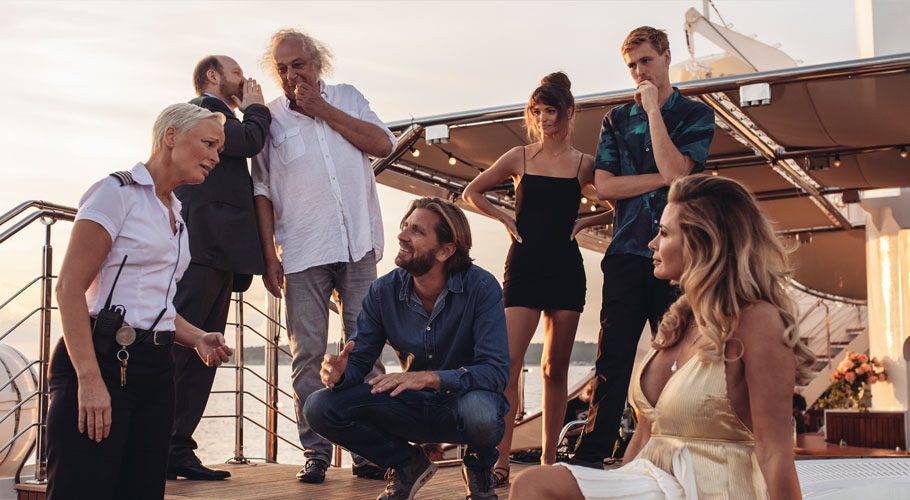 This week, Best Picture nominee 'Triangle of Sadness' has made its OTT debut.
One of quite a few satires movie  is Swedish director Ruben Östlund's second Palme d'Or winner at Cannes (The Square, although I prefer Force Majeure). The movie is also up for best picture at the 2023 Oscars.
Plot
This one follows a group of wealthy people on a luxury cruise, and what happens when things go terribly awry.
Read more: Here's the 5 so far best Korean movies on Netflix
The dark comedy focuses on a celebrity couple that gets invited to travel on a luxury cruise. However, the novelty of being surrounded by affluence soon wears off when the ship crashes, leaving the passengers fighting for survival on an island.
Cast
Harris Dickinson as Carl
Charlbi Dean as Yaya
Dolly de Leon as Abigail
Zlatko Burić as Dimitry
Iris Berben as Therese
Vicki Berlin as Paula
Henrik Dorsin as Jarmo
Jean-Christophe Folly as Nelson
Amanda Walker as Clementine
Oliver Ford Davies as Winston
Sunnyi Melles as Vera
Woody Harrelson as the Captain
Reviews
The film which was released in October 2022 received generally positive reviews, while De Leon's performance received international praise, garnering her first Golden Globe and BAFTA nominations for her supporting role. It also won four European Film Awards, including the Best Film award, and received three nominations at the 95th Academy Awards: Best Picture, Best Director and Best Original Screenplay.
Where to watch 'Triangle of Sadness'?
"Triangle of Sadness" is now available to watch on Hulu. The movie is also available to buy or rent from digital retailers like Amazon, Apple TV, and Vudu.