Hira Soomro is unhappy with Minal Khan celebrating dholki in Muharram
Actress Hira Soomro has shown disappointment over the dholki celebration of Minal Khan and Ahsan Ikram during the month of Muharram, who is set to tie the knot this weekend.
Hira Soomro, who got more popularity after appearing in the drama serial Chupke Chupke, took to Instagram and criticized Minal Khan's Dholki celebrations happening during the month of Muharram. In her story, she ranted over the celebration happening with zeal and zest in the Holy Month of Muharram.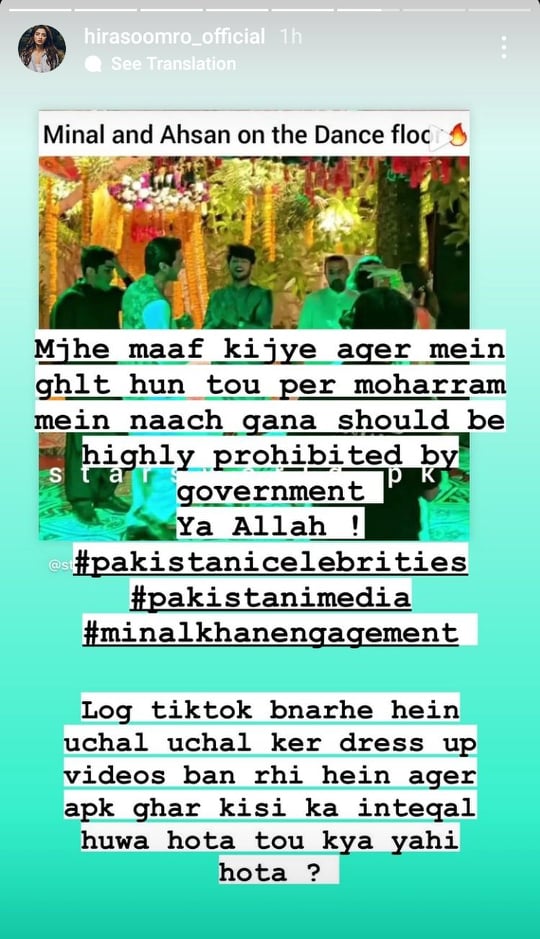 Minal Khan and Ahsan Mohsin Khan are all set to step towards their new journey as the couple is going to married in just a few days after a formal engagement in June and a 'baat pakki' in May.
Read more: Minal Khan and Ahsan Mohsin Ikram's colourful 'dholki' invitation is out
Last week, bride-to-be Minal Khan and Ahsan Mohsin Ikram confirmed their wedding date on social media. They took to their respective Instagram handles and shared an invitation card to announce their wedding date.
Minal said in the caption "Allhamdullilah. @ahsanmohsinikramofficial where did you come from achanak? Now you're staying forever" followed by a heart emoji.