Hajra Bibi: A woman determined to fight Pakistan's period taboo
Buni: Women in rural Pakistan are stitching sanitary pads in hopes of aiding female hygiene and breaking the period taboo.
Hajra Bibi, one of the 80 women trained by Aga Khan Rural Support Program (AKRSP), an NGO working with UNICEF, shared her story with an international media outlet. She started to stitch sanitary pads to support her family, as her husband is a wheelchair user and her family was surviving on menial income. 
She stated the women on her period were deemed unclean and impure. They were only allowed to do limited tasks and forced to use rags to soak up their menstrual blood. The hygiene standard was poor and many contracted diseases.
Aga Khan Rural Support Program trained several women in her village to make disposable sanitary pads made up of cotton, plastic, and cloth. The women were trained under the project which aims to change attitudes to women's health.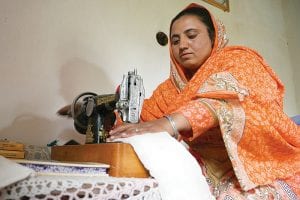 She attended the training course and took up the work to support her family. She told that each pad takes 20 minutes to make and is sold for Rs. 20.  
Now a 35- year-old mother living in the village of Booni, close to the Afghan border says, "I am responding to a crisis."
Initially, her work garnered criticism and locals hurled insults at her. But now, "girls in the village can talk about their periods," she said proudly, adding that she was fighting "for the basic needs of women".
In Pakistan, Unicef has warned that in some cases information about menstruation has deliberately been withheld from women as a "means of protecting their chastity".
"This in turn negatively impacts their physical and emotional health," it said in a 2018 report.
Pakistan ranked 148th out of 149 countries by the World Economic Forum for gender equality.
"In Karachi, a metropolitan city of more than twenty million people seen as the most liberal city in Pakistan, sanitary pads are easily accessible, though expensive. Many women are still made to feel uneasy by leering shopkeepers and ask their husbands to buy them instead." reported by the Gulf news.
"Some people buy them late at night, others prefer to buy them in a different neighborhood," said Sajjad Ali, 32, a store owner.
"In shops, sanitary pads are wrapped in opaque paper, instead of in transparent bags like other products." reported by Metro news. "Periods are treated as taboo and surrounded by mystery," said Seema Shiekh, a women's rights activist.
Around 28 percent of women surveyed in 2017 by Unicef highlighted that they had missed school or work because of stomach pain or worry over staining their clothes.
Bibi – who is working alongside 80 other women trained to make sanitary pads – is confident things will change in Booni too.
She said: "With this project, I have made people aware."