FIA uncovers millions stashed in lockers from Rawalpindi plaza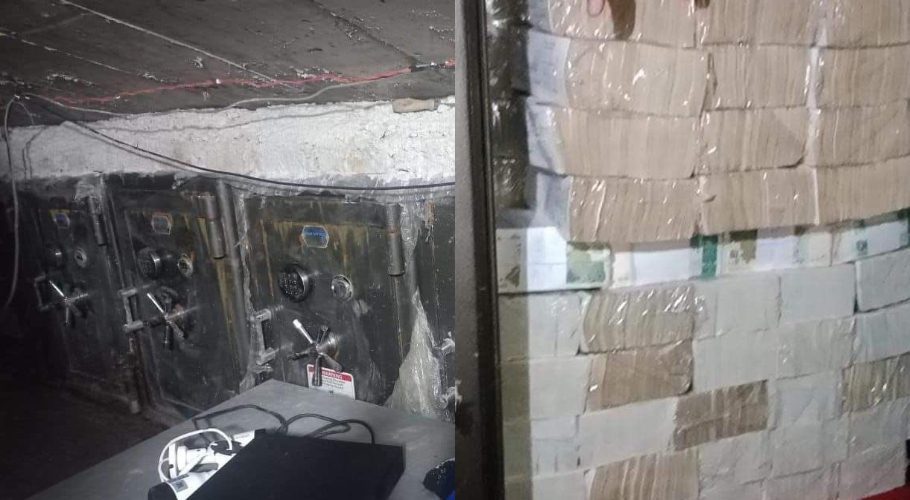 RAWALPINDI: The Federal Investigation Agency (FIA) unearthed 13 lockers filled with millions of rupees in cash after a raid at a plaza in Rawalpindi.
FIA conducted the raid at an under-construction plaza on Muree Road after receiving a report from security agencies and seized the currency stashed in lockers concealed in a godown in the basement.
During the operation, 13 lockers were uncovered, each containing a large sum of cash. The total amount was estimated at Rs 400,440,000 million belonging to a local businessman Sheikh Sarosh.
The authorities conducted a week-long surveillance operation before the raid. Their attention was drawn to a small iron gate leading to the parking area of the plaza's double basement where construction equipment was stored.
Upon closer examination, the FIA team detected a hollow space behind one of the walls, which revealed a concealed room. The authorities were surprised to find 13 large iron lockers, each equipped with security systems and cameras.
The owner of the plaza Sheikh Sarosh arrived with legal documents and attempted to explain the situation to the FIA team. He suggested opening the lockers himself, leading to a heated argument with the FIA team.
The owner insisted that the money remains at the site, while the FIA team maintained that the confiscated funds must be secured. The FIA requested police assistance in resolving the matter and seized the funds.
Advocate Inam Farooqui, the lawyer of Sheikh Sarosh, said they have provided all proof to the FIA. He said no foreign currency was involved in the raid.
He said the owner Sheikh Sarosh is a businessman who sold lands in various locations. He said all cheques, bank drafts, agreements, and the money trail of the land agreement are available. He said all funds and assets of Sheikh Sarosh are listed in the FBR.
He said FIA seized the money under inventory in the plaza. He said the FIA broke CCTV cameras installed in the plaza with shovels. He said the FIA has not registered any FIR or detained anyone. He said a search operation was conducted in the plaza for 12 hours.
READ MORE: Govt picks up stick against gold mafia
​