Doors of sacred Kaaba opened for Prime Minister Imran Khan, first lady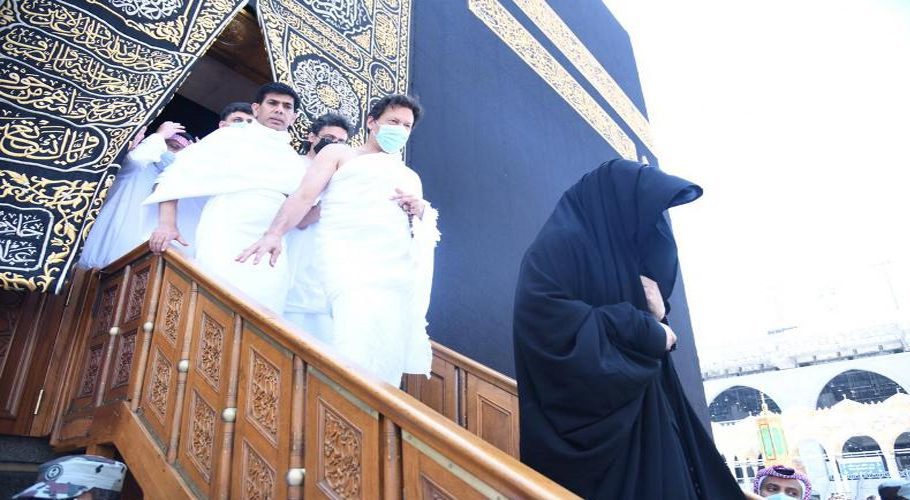 JEDDAH: Prime Minister Imran Khan has performed Umrah along with the first lady in Makkah on Sunday during his three-day trip to Saudi Arabia.
As per details, the doors of Holy Kaaba were opened for Prime Minister Imran Khan and was bestowed with the opportunity of going inside Holy  Kaaba. He prayed for the Muslim world there.
Interior Minister Sheikh Rashid Ahmed, who is also part of the delegation, tweeted that the door of the Ka'aba was specially opened for PM Imran and the delegation.
He said that the premier and the delegation offered Nawafil prayers inside the Ka'aba. In the video shared by the minister, PM Imran and his wife can be seen kissing the Hajr-e-Aswad.
وزیراعظم عمران خان کے ہمراہ عمرہ کی سعادت مکمل کی۔
وزیراعظم اور ان کے وفد کے لئے خانہ کعبہ کا دروازہ خصوصی طور پر کھولا گیا۔ وزیراعظم اور خاتون اوّل اور وفد نے خانہ کعبہ کے اندر نوافل ادا کئیے۔🤲@ImranKhanPTI @GovtofPakistan pic.twitter.com/zmQM16MXHu

— Sheikh Rashid Ahmed (@ShkhRasheed) May 9, 2021
After the Umrah, the Prime Minister also met Imam-e-Ka aba, head of the Muslim World League and Secretary-General of OIC.
Prime Minister's meeting with the Secretary General of the Organization of Islamic Cooperation (@OIC_OCI)#PMIKinKSA#رئيس_وزراء_باكستان_في_السعودية https://t.co/VfqJ3tqPI3 pic.twitter.com/KK7VJ45Tdm

— Prime Minister's Office, Pakistan (@PakPMO) May 9, 2021
Later, he will address the Pakistani community at a ceremony regarding Roshan Digital Account. Prime Minister Imran Khan on Saturday night paid his respect at Roza-e-Rasool (Peace be Upon Him) in Madina Munawara and offered Navafil and Namaz-e- Maghrib in Masjid-e- Nabvi.
According to an official statement issued on Twitter, "Prime Minister Imran Khan at Aqdam e Aaliya, while he's in Madina to pay respect at Roza E Rasool (PBUH)." The premier prayed for the progress and prosperity of Pakistan.
Prime Minister @ImranKhanPTI at Aqdam e Aaliya, while he's in Madina to pay respect at Roza E Rasoolﷺ pic.twitter.com/5yv5iU4fRr

— Prime Minister's Office, Pakistan (@PakPMO) May 8, 2021