CJP Isa receives cordial welcome as he assumes duties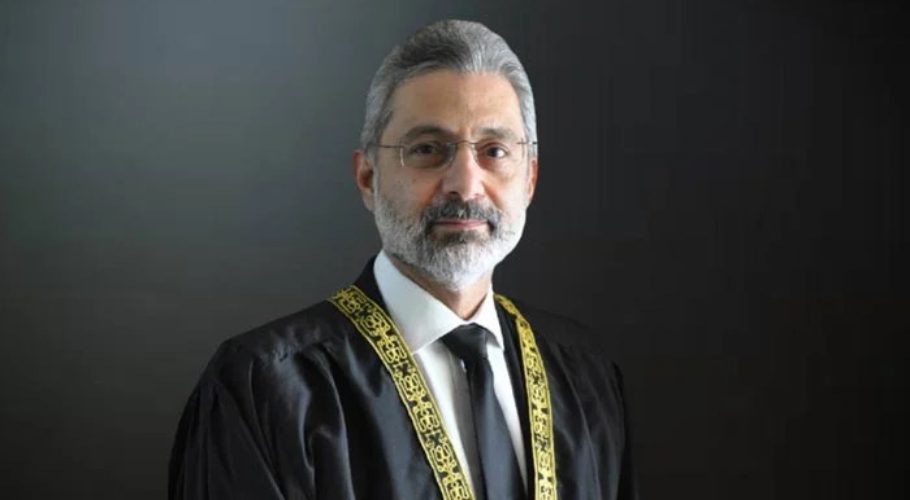 ISLAMABAD: Chief Justice of Pakistan (CJP) Justice Qazi Faez Isa on Monday received a warm welcome from staff upon his arrival at the Supreme Court.
In his interaction with the SC registrar and other judicial staff, CJP Qazi Faez Isa asked them to serve the masses coming to the court for justice. He said people come to the Supreme Court seeking justice.
He was presented with a bouquet of flowers from the newly appointed registrar Jazeela Aslam. "Thank you all so much. We need a lot of cooperation from you all," he told the staff. He urged the court staff to treat visitors like "guests", calling on them to keep the doors of the top court open and accessible for all.
The Chief Justice also refused a guard of honour from the Islamabad police. He directed the police to fulfill their responsibility wholeheartedly.
A day earlier, Justice Qazi Faez Isa took oath as the 29th CJP in a ceremony held at the President's House. President Dr Arif Alvi administered the oath during an investiture ceremony at the President's House in Islamabad.
Caretaker Prime Minister Anwaar-ul-Haq Kakar was also present during the ceremony. Chief of Army Staff General Asim Munir attended the ceremony.
Top government officials and dignitaries, including military officials, caretaker federal ministers, senators and foreign ambassadors attended the ceremony.
His predecessor Justice Umar Ata Bandial retired from office a day earlier after reaching the age of superannuation.  Justice Isa's tenure as the country's chief justice, however, will be quite brief, as he is set to retire from the position on October 25, 2024.
Soon after, Chief Justice of Pakistan Qazi Faez Isa appointed Ms. Jazeela Aslam as Registrar Supreme Court. He has also appointed Dr. Muhammad Mushtaq Ahmed as Secretary to Chief Justice of Pakistan.
READ MORE: Justice Qazi Faez Isa takes oath as Chief Justice of Pakistan
Chief Justice Qazi Faez Isa has formed a full court to hear the petitions challenging the Su­preme Court (Practice and Procedure) Act 2023. The full court will conduct hearing of the case which were earlier adjourned indefinitely.
In April, an eight-member bench headed by then CJP Umar Ata Bandial had suspended the implementation of the legislation, which regulates the discretionary pow­ers of the CJP's office to take suo moto notice through a commit­tee of three senior-most judges including himself. Since the en­actment of the SC (Practice and Procedure) Act 2023, Justice Isa avoided being part of a bench to hear the cases. 
The previous Pakistan Democratic Movement (PDM) enacted the Su­preme Court (Practice and Pro­cedure) Act, 2023, aimed at clipping the chief justice's powers to form benches and fix any case before him. However, an eight-member bench had suspended the bill's implementation after a set of peti­tions were filed challenging it.