Bid to smuggle mobile phones foiled at Islamabad Airport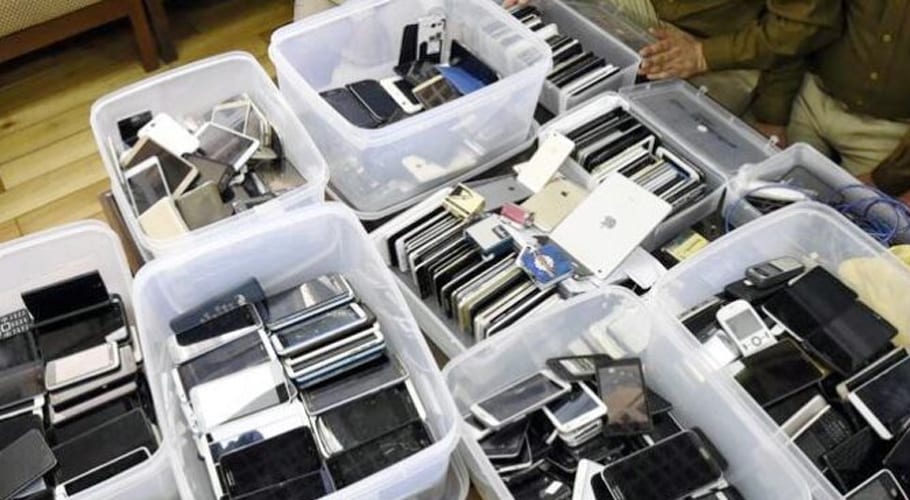 ISLAMABAD: Pakistan Customs has foiled a bid to smuggle 1,360 luxury mobile phones worth Rs 50 million from Islamabad Airport on Saturday. 
According to Customs, the officials posted at the airport identified suspicious bags on baggage scanners during the clearance of flight PK-134 which arrived from Dubai.
During the search of the bags, 1,360 mobile phones, 14 Ipads and six video games were recovered from passengers, Muhammad Azeem from Sialkot, Nabeel Ahmed from Karachi, Hassan Ali from Sialkot, Muhammad Rashid from Sargodha, Nauman Hussain from Faisalabad, Muhammad Zafar from Lodhran, and Zafar Iqbal from Vehari.    
Sources said that the above-mentioned flight was bound to land early Thursday morning around 4 am but it was diverted to Peshawar due to bad weather conditions and later it landed around 12 pm in the afternoon. 
They said that a well-organized group of travel agents working in Dubai give around 200 to 300 dirhams to passengers on the condition that they will transfer the mobile phones to people standing outside the airport.
Customs Assistant Collector Salik Gondal said that they have arrested seven people in this case, who wanted to evade Rs13 to Rs14 million tax from this attempt.
Earlier, Officials of the Customs Intelligence Squad had foiled a drug trafficking bid to Punjab and recovered 32 kilograms of hashish from a vehicle at Hala Naka near Shaheed Benazirabad Flyover, Hyderabad Sindh.
A customs spokesperson informed that acting on a tip-off, the officials set up a checkpoint at Shaheed Benazirabad Flyover and started searching vehicles.
A huge amount of Hashish was being smuggled from the Tando Adam to Hyderabad under the coverage of Guava Fruits packed in wooden boxes loaded on the vehicle.
One of the staff members stopped the suspected vehicle, however, the driver managed to escape taking advantage of darkness and traffic. After which, the vehicle was taken into custody.
The customs officials recovered 32 slabs of Hashish (Charas) wrapped with green plastic, each slab weighing 01 kilograms. The current market value of the recovered smuggled Hashish is approximately Rs.3.2 Million.