Balochistan High Court suspends arrest warrant of Imran Khan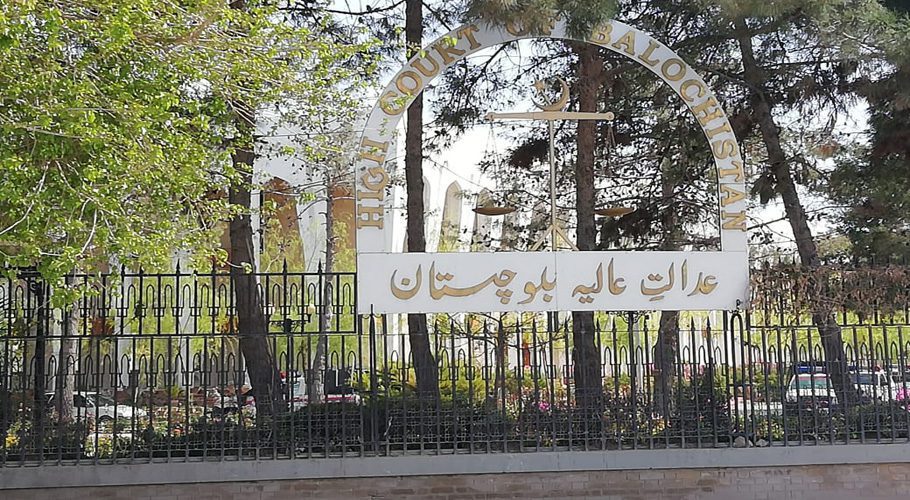 QUETTA: The Balochistan High Court (BHC) on Friday suspended arrest warrant issued by a judicial magistrate against PTI Chairman Imran Khan.
بریکنگ
کوئٹہ:۔ بلوچستان ہائی کورٹ نے جوڈیشل میجسٹریٹ کی جانب سے جاری ناقابلِ ضمانت وارنٹ گرفتاری دو ہفتے تک معطل کردیے

کوئٹہ: بلوچستان ہائیکورٹ کے جج جسٹس ظہیر الدین کاکڑ نے فریقین کو نوٹس جاری

کوئٹہ: آئینی درخواست پر دو ہفتے بعد سماعت کی جائے گی

— MM News TV (@mmnewsdottv) March 10, 2023
The Judicial Magistrate-I issued non-bailable arrest warrant for Khan on Thursday in a case regarding defamation of institutions against Imran Khan is also registered in Bijli Road police station, Quettta, and instructed authorities to detain Khan and present him before the court. 
Within hours, a Police team from Balochistan's Quetta led by the SP comprises a DSP, Abdul Sattar Achakzai, a sub-inspector, Malik Hameed, two trained commandos, Qaiser and Sultan, and a driver, Ilyas, reportedly reached Lahore with an apparent intention to arrest Chairman of Pakistan Tehreek-e-Insaf (PTI) Imran Khan.
Also read: Quetta Police team in Lahore to arrest Imran Khan
The PTI legal team including former speaker Qasim Khan Suri Friday morning approached the BHC with prayer to not only cancel the arrest warrant but quash the case too.

The petition was filed by Imran's lawyer Syed Iqbal Shah Advocate.
بجلی روڈ کوئیٹہ مقدمہ میں عمران خان کی طرف سے آئینی درخواست دائر کر دی گئی یہ جھوٹا مقدمہ بھی جلد خارج ہو گا جسٹس ظہیر الدین کاکڑ کچھ دیر میں سماعت کریں گے pic.twitter.com/Lmwzv6KgJb

— Intazar Hussain Panjutha (@intazarpanjutha) March 10, 2023
In the petition, the PTI argued that the case registered against Imran at Quetta's Bijli Road police station was not valid since the alleged offence did not fall under its jurisdiction.
Terming actions taken by the Balochistan police as "illegal [and] unlawful", the PTI said there was "no other efficacious, speedy, and alternate remedy available to the petitioner except to file the instant quashing petition" for redressal of his grievance".
The petition further said that Section 20 (malicious code) of the Prevention of Electronic Crime Act 2016 (Peca) was not applicable as Imran did not "intentionally and publically [sic] display [or] transmit any information through any information system".
The petitioner prayed to the court to quash the FIR against him. 
Justice Zaheeruddin Kakar of Balochistan High Court heard the petition after which he suspended the arrest warrant for two weeks and issued notices to the parties and respondents including IG Balochistan, DIG, SP Legal and SHO. The Balochistan High Court also issued notice to the complaint Khalil Kakar.