Quetta Police team in Lahore to arrest Imran Khan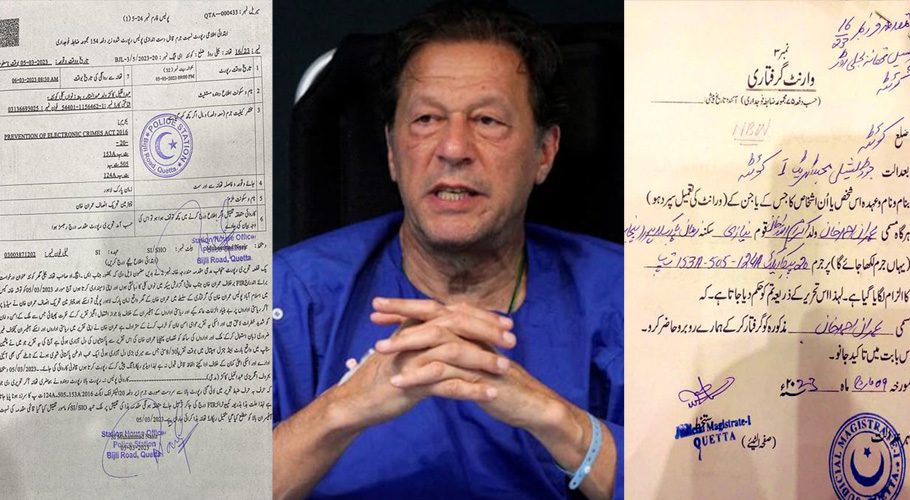 LAHORE: A Police team from Balochistan's Quetta is reported to have arrived in Lahore with an apparent intention to arrest Chairman of Pakistan Tehreek-e-Insaf (PTI) Imran Khan in a case registered there.
MM News has learnt from multiple media sources that Superintendent Police City Nadeem Ahmed and his team have reached Lahore with arrest warrant for Imran Khan from a judicial magistrate in Quetta.
Also read: Case against Khan: PTI demands CJP to take notice of 'blatant contempt'
The Judicial Magistrate-I issued non-bailable arrest warrant for Khan on Thursday, instructing the authorities to detain Khan and present him before the court. 
A case regarding defamation of institutions against Imran Khan is also registered in Bijli Road police station, Quettta. It may be recalled that two days back, in the case filed by a citizen Abdul Khalil Kakar, it was alleged that Imran Khan made baseless allegations against state institutions. It was argued in the petition that Imran Khan spread hatred by making unjustified inflammatory speeches against the officers of the state institutions.
The police team led by the SP comprises a DSP, Abdul Sattar Achakzai, a sub-inspector, Malik Hameed, two trained commandos, Qaiser and Sultan, and a driver, Ilyas, has come from Quetta.
Media reports suggested that CCPO Lahore Bilal Siddiq Kayana has already been informed about the arrival of Quetta Police team, and plans to arrest Imran Khan.
Media outlets believed to be aligned with the ruling coalition ran news tickers claiming that Imran Khan was likely to be arrested and shifted to Mach Jail, something wished by Interior Minister Rana Sanaullah in November last year during the course of a TV interview.
It has also been learnt that m ore than 1,300 police personnel including riot force would be employed to ensure arrest of Imran Khan.