Zardari offers MQM to join Sindh govt as Senate elections near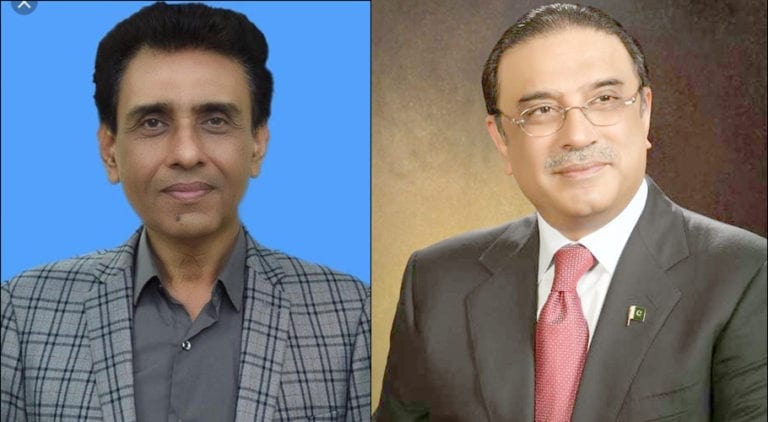 ISLAMABAD: Former President and Pakistan Peoples Party (PPP) co-chairman Asif Ali Zardari has once again invited the Muttahida Quami Movement (MQM) to join the Sindh government if it quits the federal government.
The MQM, an ally of the Pakistan Tehreek-e-Insaf (PTI) led federal government, has recently expressed reservations over the census figures for Karachi. The matter was raised in a recent meeting of the MQM with Prime minister Imran Khan who has constituted a committee to review the census issue.
MQM Convener Khalid Maqbool Siddiqui said the party has been left with no option but to take to the streets in protest against the recent decision of the federal cabinet to approve the census. He said that their protest would have no significance if they stayed in the government and they would announce their future course of action soon.
However, sources informed that matter relates to the Senate elections rather than the census. The party has four seats in the Senate, four of whom are retiring this March.  Khushbakht Shujaat, Mian Ateeq Sheikh, Barrister Muhammad Ali Saif and Nighat Mirza are the MQM senators who will be completing their terms, while Law Minister Farough Naseem will be last member remaining after he was elected in the last elections.
The PPP has 21 Senators out of whom seven are retiring. Well-placed sources informed that Zardari has expedited efforts for the Senate elections and has offered the MQM a place in the Sindh government the latter votes for the PPP in Senate polls.
The PML-Q is also lobbying for seats in the Senate despite not having members. The Balochistan Awami Party (BAP), a key ally of the PTI, has nine Senators including Chairman Sadiq Sanjrani, while four are retiring this year.
The PML-N, the largest opposition party, has 30 Senators while 17 are retiring. However, sources informed that the party has not come with any strategy for the Senate elections as the controversy continues on resignations from assemblies as part of the Pakistan Democratic Movement's (PDM) strategy.
The PTI has dismissed reports that the MQM will abandon the coalition and has termed complaints as part of politics. However, Zardari is known for his reconciliatory politics and seems to achieve the desired results as his offer to the MQM has ripples among the government.
All political parties including those in the opposition are eyeing the Senate elections. Over 65 percent of the senators who are set to retire after completing their terms belong to the opposition parties.
This has created concerns as the PTI would emerge as the largest party in the Senate. The ruling party already has 14 Senators out of which seven are retiring next year. The PML-N and PPP have reportedly started consultations for the elections and a decision in this regard is expected soon.