Zaid Ali requests fans to pray for his deteriorating health
Famous Canadian YouTuber Zaid Ali has just revealed his fans about his accident and the current situation regarding his health after accident.
Zaid Ali T took to Instagram and stated, 'A few days ago I had an accident in which my head got hit after which I passed out and upon waking up I got to know that's I had been luckier enough to escape from any sort of internal bleeding'.
He said that he was still feeling drowsy and whatever he is eating, he is vomiting it right after a few minutes. While talking about his pain, he said that he prayed to Allah to take whatever he has and just ease his pain which is intense.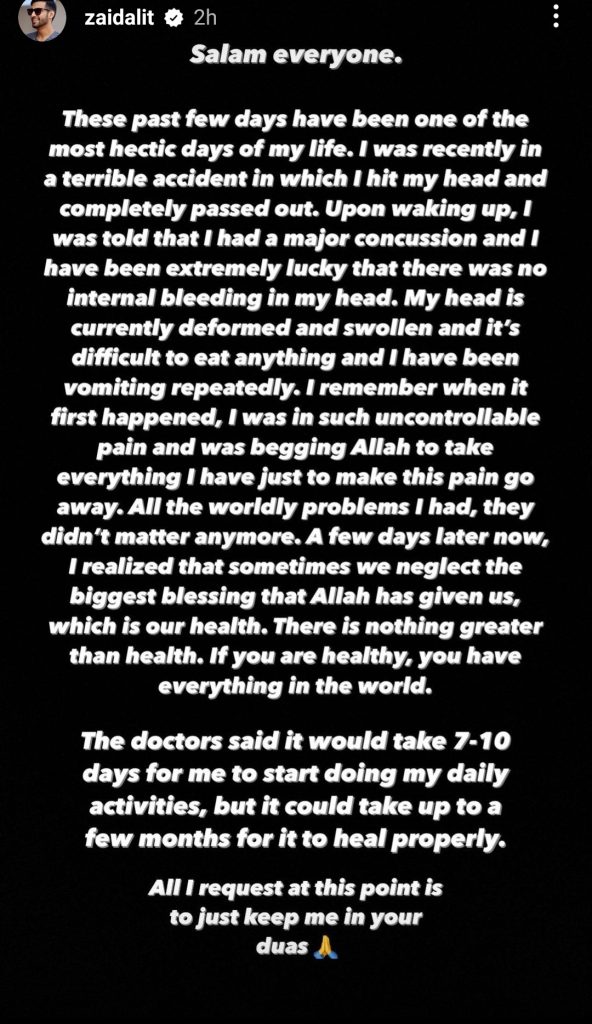 He further urged his fans to pray for his recovery as he is in recovery phase. He said that health is Allah's biggest blessing for which everyone should thank Allah. Have a look at what he said.
Read more: YouTuber Zaid Ali and wife Yumnah welcome baby boy
Zaid Ali married his friend Yumnah in 2017, after which he and his wife released many vlogs together. Zaid Ali, a Pakistani Pakistani origin Canadian had gained fame through social media. They welcomed a baby boy last year.
The number of subscribers of his channel on YouTube is more than 2.9 million. Similarly, the number of his fans on Facebook, Instagram, and Twitter is in the millions and his videos are quite popular on social media.