Why did Imran Khan's long march end abruptly?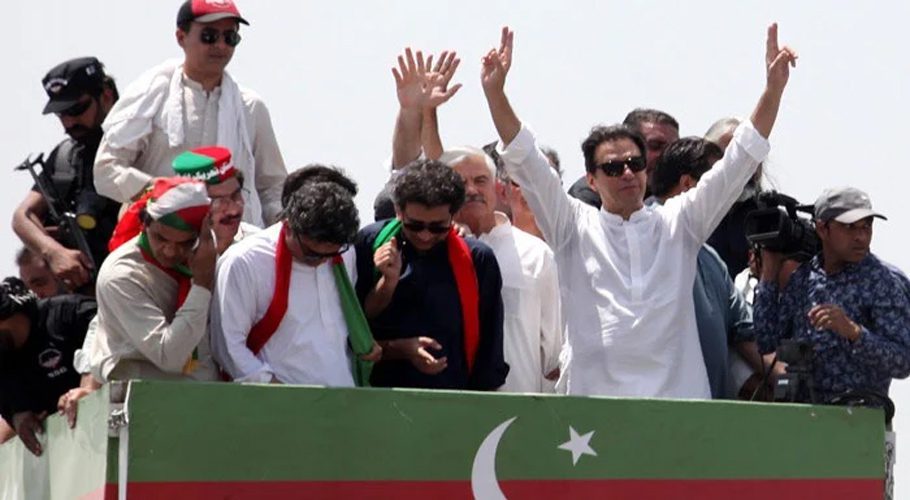 The sudden end of PTI chairman Imran Khan's long march caught everyone by surprise. The astonishment of PTI workers can be visibly felt as those braving tear gas shelling for the last 24 hours, suddenly realized the show came to an end. Political observers are also puzzled and are trying to find out the real thing in their own way.
Honestly, no one knows the real story. There is a need to combine different logical links in this regard and there are some clues from which a little can be deduced. After this honest confession, we try our best to put together pieces of this picture.
As far as I know, many central leaders of PTI do not even know what happened. It is said that Imran Khan only called Shah Mehmood Qureshi and Asad Umar and informed them about this decision. Obviously, the implications of this may have been discussed. Both gave their advice but what Imran Khan did later happened.
There are various theories and assumptions being made regarding the deferment of the long march.
Not many people came out
It is absurd that not many people gathered, so Imran Khan did it. No, that's not true. Neither that there weren't as many people as shown on various TV channels. About 20,000 people had gathered at D-Chowk at night and around 15-20 thousand came with Imran Khan. This means there were around 35,000 and people would keep coming after the sit-in.
Getting stuck in sit-in
A journalist friend quoted Rana Sanaullah as saying that Imran Khan feared that if there were 20-25,000 people now, if he sat on the sit-in, around 5.000 would be left out. Did Imran Khan not know before the Long March that this could happen? This is what happened to him eight years ago, the number of people he took with him to Islamabad, later the number was much less than that. What rocket science was needed to understand it?
Workers were tired
A justice friend said that workers were exhausted after shelling all night, it was not possible for them to fight the police in the morning. Therefore, Imran Khan took care of the workers.
What else?
Imran Khan knew full well that all this was to happen. The government had made it clear. Interior Minister Rana Sanaullah had said that his anger and revenge is rising. Imran Khan had the report of all the preparations of the police. Imran Khan's caravan was to arrive in the morning, it takes so long to reach D-Chowk from Swabi, the workers had to be exhausted in the morning in any case.
Rules of the game were set
Imran Khan knew before the game started that his march would not be allowed to grow. He knew people from Punjab will not be able to come, all will depend on KP.
He also knew that ruthless force would be used, workers from other cities would be exhausted after being beaten on the streets in Islamabad and that the sit-in would make them even more tired.
When Imran Khan announced the long march and then started making progress, he moved forward keeping all these aspects in mind. They took a big risk, risking themselves and their politics.
Long marches and sit-ins are always so dangerous that once you sink into it, there is no easy way out. Eight years ago, their sit-in headed for a deadlock. Had it not been for the Peshawar school tragedy, Imran Khan would have had no way back. This time too Imran took the risk.
Decisive moments
I think the decisive moments of the Long March came between three and four o'clock on Wednesday and Thursday night between six o'clock in the morning.
I used to wake up at night and watch the live transmission, in between I was talking to various journalist friends and just friends at D-Chowk.
I was wondering why Imran Khan's caravan was so late in reaching D-Chowk even after entering Islamabad. There came a time when I found out that there was only one or two kilometers left. At about 3:30, I fell asleep for a while. At six o'clock, I opened my eyes, checked and found out that he had not arrived yet. I was very surprised on the delay.
About 7 o'clock, Imran Khan's speech started to be broadcast. He had addressed the workers on Jinnah Avenue and ended the long march, giving six days respite, and returned to his home without going to D-Chowk. As far as I know, everything happened in those last two hours.
Deal or something
The truth is that here we can only guess because even PTI leaders are showing ignorance. Sources close to the establishment have already kept their mouths shut. The PML-N is trying to beat its own drum and run its own disinformation campaign.
Assumption No.1
PML-N circles are supporting this theory. According to them, important quarters threatened Khan that if he did not end long march, he would face severe contempt of court action and a crackdown against the party. Frightened by this, the immediate march was called off.
I don't think so. Imran Khan could not be intimidated so easily. If that were possible, what we have seen in the last month and a half would not have happened. Again, contempt proceedings are not easy. The PTI could not commit such a major violation. The court is also a part of society, it doesn't go to extremes.
Assumption No. 2
A conspiracy theory is going on that at the request of important circles, the prince of a Muslim country intervened and on his guarantee, Imran Khan agreed to postpone the long march immediately.  This would have given a few days respite the assembly would be dissolved and new elections would be called.
This is an assumption, but it may be true. There are many examples of this in Pakistan. Our friendly countries have been conducting such mediation in our interests. Nawaz Sharif himself was similarly freed from the clutches of General Musharraf. It is possible that if this is true then this guarantee will be strictly enforced.
Assumption No. 3
It is being said that something has happened behind the scenes. It is true that this process has been going on for many days. Before the meeting in Multan, I was informed that the date of the Long March would not be given today, but would be postponed for two days. The same thing happened later.
Then two days later, Imran Khan gave a date was also found out that negotiations were still going on, but Khan on hearing the news of an important meeting made an aggressive decision of Long March. Contacts were made again at the crucial moment and assurances were given that the matter would be resolved by postponing the march and giving it a few days respite.
What will happen now?
Imran Khan has issued a six-day ultimatum till May 31. He said that elections should be announced in June. It may take a few more days after the six days have elapsed for him to return when another march.
It is also possible that the government and the opposition will form a committee to negotiate the election, which will take a few more days, during which the budget will be presented and then the assembly will be dissolved.
What if not?
It is quite possible that the Assembly will not be dissolved even after six days or next month. The government has announced that it will complete its term and elections will be held next year.
This assumption is still beyond the reach of the average person. Three important legislations were passed in one day, all the things that the government wanted to do happened.
Once these amendments are passed and signed by the President, the government will have little meaning from parliament. This is a very important point. If the term is to be completed, then why so much haste in legislation? If elections are to be held a year later, then why such hasty amendments in election laws?
This has to come to an end, today or tomorrow. Let those who shoot arrows of criticism at Imran Khan keep their arrows in their bows for a few days. It may be that Imran Khan's seemingly incomprehensible decision will seem meaningful.