When Maulana Fazlur Rehman disturbed Pakistani embassy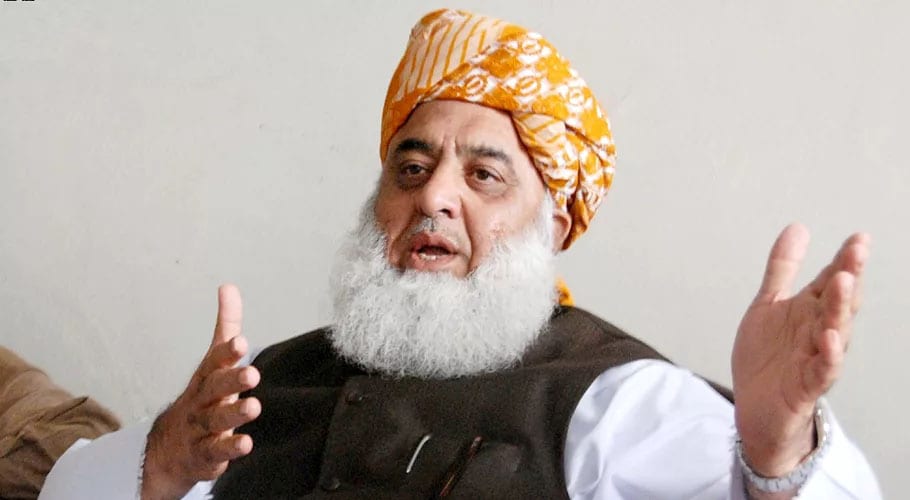 Nowadays, the political temperature is high in the country, and even "pushing" has been added to it. The problem is that no one has anything new to say. Half incomplete things are going on, half-truth what to say? In such a situation, why not look through the windows of Pakistani history where the truth and facts are hidden inside the invisible walls.
Karamatullah Ghauri is a prominent Pakistani (former) diplomat who has served as ambassador to many countries, including Kuwait. Ghauri Sahib has written two books based on his observations, impressions and experiences. Two or three incidents were narrated for the readers with reference to the second book "Employment Ambassador". Today we will explore his first and most famous book, Rainfall.
Karamat Ghauri has narrated two or three interesting incidents regarding Maulana Fazlur Rehman. He wrote this detail on pages 115 to 118 of my book. I will try to summarize it in my own words, otherwise one column will not be enough.
Ghauri says that Maulana Fazlur Rehman was then Chairman of Foreign Affairs Committee (National Assembly), he came to Kuwait. Prior to her arrival, a secret letter from Prime Minister Benazir Bhutto reached the Pakistani embassy in which Bibi said that Maulana was being sent to Kuwait on an important mission to inform key members of the Kuwaiti parliamentarians of Pakistan's position on the Kashmir issue.
On the first morning of Maulana's visit, he was taken to meet with the Foreign Affairs Committee of the Kuwaiti Parliament. There were five or six other members of the Kuwaiti Parliamentary Committee on Foreign Affairs, all of whom were highly qualified, had university degrees from the United States or the United Kingdom, and were all experts in international affairs. Maulana Fazlur Rehman was warmly welcomed by all and seated in the conference room. The head of the committee, Dr. Jassim Al-Saqr, requested Maulana Fazlur Rehman to state the purpose for which he had come.
Karamat Ghauri says he was shocked when Maulana Fazlur Rehman asked him to inform the Kuwaiti parliamentarians about Pakistan's position on Kashmir. As Ambassador of Pakistan, Karamat Ghauri reminded Maulana that he has come as the special envoy of Prime Minister Mohtarma Benazir Bhutto, so it is up to him to explain.
Maulana was amused at this but when the silence in the conference room became heavy, he paused and recited words in Urdu for five to seven minutes which Karamat Ghauri kept translating into English. Ghauri Sahib realized that Maulana was not coming to the subject of the address, how the Kuwaiti parliamentarians were looking at each other. Forced to do so, Karamat Ghauri said, "If Maulana gives permission, I will continue the conversation." Maulana was happy and immediately agreed and then turned towards the cake and pastry placed on the table in front of him. For the next one hour, the Ambassador of Pakistan continued to talk while Maulana continued to worship his stomach.
Karamat Ghauri says, "I thought that Maulana Fazlur Rehman would come out and thank me for solving his problem." Instead, he sat in the car and ordered a meeting with Jassim al-Hajji, president of Beit al-Zakawata, Kuwait's largest charity. The Kuwaiti charity provides financial resources to madrassas, hospitals, orphanages and other such welfare institutions in Muslim countries around the world.
Karamat Ghauri took Maulana Fazlur Rehman to Jassim Al-Hajji the next day, but first gave him a full briefing that Bait-ul-Zakwata has millions of dollars in funds, but he does not waste them like this, the person who seeks his help has the whole plan. It should be accompanied by details and if a madrassa etc. is to be built then there should be a relevant drawing of construction work along with feasibility study, otherwise, there is no benefit. Ghauri Sahib asked Maulana if he had brought with him the full details of the plan, Maulana said that he had come armed with nails.
In the next morning's meeting, Haji Sahib asked Maulana Fazlur Rehman that the expansion of his madrassa he was talking about, for which help was needed, the necessary documentation had been done and he had the necessary documents. Then Maulana admitted that he had no details except the figures which he had handwritten on paper. On this Jassim Al-Hajji Sahib apologized that he could not do anything in such a situation. Maulana's confession and going to this meeting empty-handed was obviously very painful for Karamat Ghauri, but the real embarrassment came to him in the evening.
The same evening, another well-known Kuwaiti organization held a ceremony in honor of Maulana, a non-Muslim organization in Kuwait. The elders of this organization thought that since Maulana was a religious scholar, he should spend some time in Syria and benefit from his knowledge of the non-Muslims who had become Muslims as a result of the preaching of this institution. About 100 people had gathered in the hall at the time of the ceremony, but Maulana Fazlur Rehman did not arrive.
When he contacted the Pakistani embassy, ​​he was stunned. When Karamatullah Ghauri got the information, he started looking for Maulana Fazlur Rehman in a world of anxiety and embarrassment. He was satisfied that he could not be abducted in Kuwait, but was worried about how he disappeared from his five-star hotel. Karamat Ghauri assured the Kuwaiti hosts that they were looking for Maulana while also informing the Kuwaiti protocol that Maulana was missing, to find out his whereabouts.
In his book, Karamatullah Ghauri describes the incident as follows: "Half an hour later, when I arrived at the venue, a Kuwaiti protocol official reported on the phone that Maulana was having a banquet at a Pathan camp outside the city. Were enjoying Some time later, my own subordinate reported on the phone that Maulana was throwing a banquet but I was also collecting donations for my madrassas. I came across the poem of the unmade Akbar Allahabadi
خلاف شرع کبھی شیخ تھوکتا بھی نہیں
مگر اندھیرے اجالے میں چوکتا بھی نہیں
So Maulana was taking advantage of his fans in every aspect. When Maulana arrived in the hall two and a half hours late, the host could not say anything, but I complained to Maulana in clear words that he had given up his personal engagement on this engagement which I (as Ambassador to Pakistan) Neither the Kuwaiti hosts had any prior knowledge, nor had they embarrassed themselves by giving preference, not only to themselves but also to the country and the nation.
Maulana could not say anything in front of everyone there but as soon as he reached Pakistan he complained to Benazir that the Pakistani ambassador had failed to respect him, but he did not know that before his complaint Ghauri's written complaint stating the whole incident was mentioned, reached the Prime Minister House.