VC Urdu University starts taking 'incomplete decisions' against rules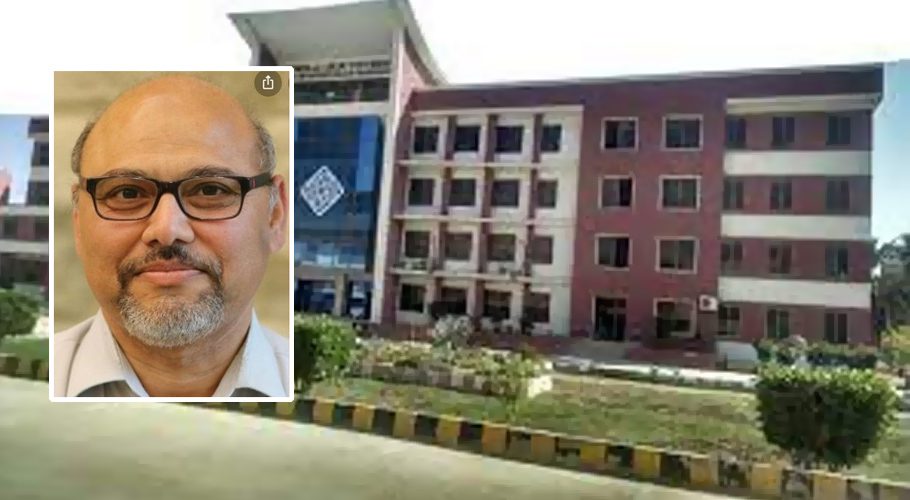 A series of illegal and controversial decisions again starts at the Federal University of Urdu as Vice-Chancellors hailing from Canada is not familiar with the rules and regulations of the university. 
The new Permanent Vice-Chancellor of the University of Urdu, Dr. Athar Ata, a Canadian citizen, has started making illegal decisions under the influence of a certain group of teachers. His arbitrary actions have led to reports of financial irregularities in the Federal Audit, NAB and FIA. The heavily paid Vice-Chancellor has also started using the allowance without approval.
The most important issue in the university at the moment is the selection board. According to the advertisements issued in 2013 and 2017, the selection board proved to be the most controversial selection board of the university. In it, certain teachers are promoted out of teh turn. 
According to the rules, any advertisement is valid for 6 months but these advertisements have been implemented in Urdu University for the last 9 and 7 years. This time too, former registrar Dr Sarem did not hold selection boards in all the departments where strong candidates were present and Dr Sarem was sure to lag behind in the seniority race.
The present Vice-Chancellor has also issued appointment letters to teachers in other departments without holding a selection board of Mathematics, Pharmacy, Islamic Studies and Sindhi Departments. Out of the race for development.
According to sources, a selection board of these teachers' departments is not being convened to disturb the seniority of Dr Hafiz Sani and Dr Arif Ikram and to make Dr Sarem a senior professor. There have also been objections to the hasty issuance of letters without removing the objections of the said incomplete selection board, stating that so far letters have been issued to dozens of assistant professors at Abdul Haq Campus and Gulshan Campus who do not have the required qualifications and neither the reports of associates and professors are available and many of them do not have PhDs nor the reports of the said selection board have been submitted to the Syndicate and the Senate for approval to issue the letter.
Former Acting Vice-Chancellor Dr Ziaul Qayoom had said in a press statement that the referee reports for the posts of associates and professors were not in the record. Dr. Sarem also took the position that he did not have these reports. In this regard, Dr. Zia-ul-Qayyum, former Vice-Chancellor and Member HEC, said that in some places and in some departments, there are examples of non-PhDs being made assistant professors. In other subjects, only a PhD must be made an assistant professor.
At present, there is no selection board for 2013 and 2017 in 6 departments in Urdu University, in which such teachers are also waiting for promotion under whom more than 20 people have not only done PhD but also their teaching experience consists of two decades. Former Registrar and Secretary Selection Board Dr. Sarem hid his reports for fear of their possible promotion, which has deprived many officers of their legitimate rights, including those of international repute and dozens of nationals. Government award winner Dr. Hafiz Mohammad Sani is also included.
One of the major objections to the conduct of the Selection Board for 2013 and 2017 is that the 9-year-old Selection Board to be held in 2021-22 will be conducted in accordance with the 2013 Rules or by accepting the convening of the Selection Board in accordance with the recent HEC Rules. No audit objections will be raised and no objections will be raised by the Higher Education Commission in the payment of their salaries.
The remaining departments in the Selection Board of the University of Urdu in 2013 and 2017 include Professor of Mathematics, Associate Professor and Assistant Professor, Associate Professor and Professor in the Department of Pharmacy, Professor and Associate Professor in the Department of Islamic and Professor and Associate Professor in the Department of Sindhi. There are those who have not been included in the selection board 2013.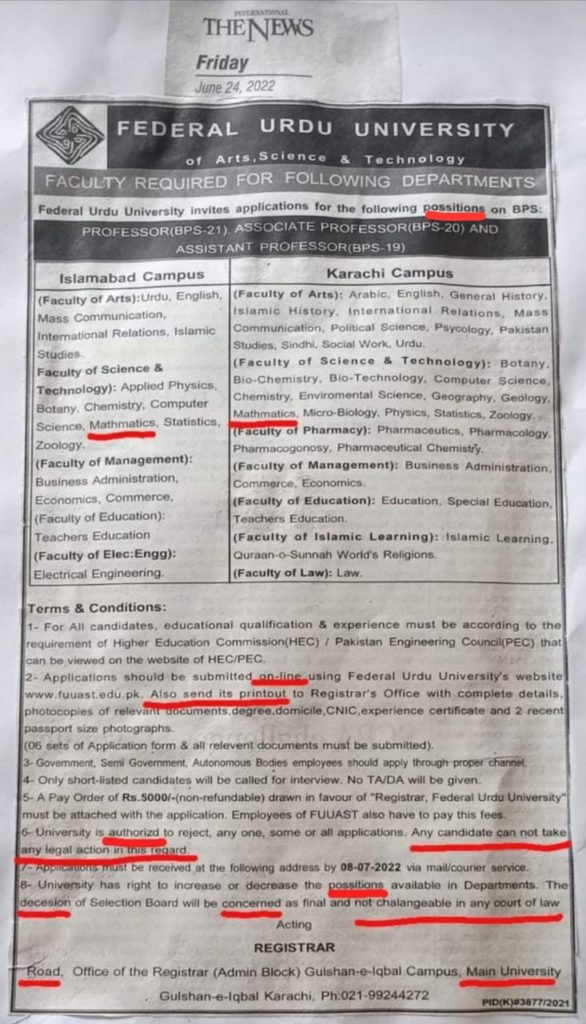 Dr. Athar Ata, instead of listening to the legitimate grievances of other senior teachers, has made another female clerk, Samia bint Haji Bakhsh Rahim, permanent after 8 years, while hundreds of employees and officers of the university are currently facing problems such as permanent jobs. Samia bint Haji Rahim Bakhsh was recruited on September 4, 2014 under letter no. 3486.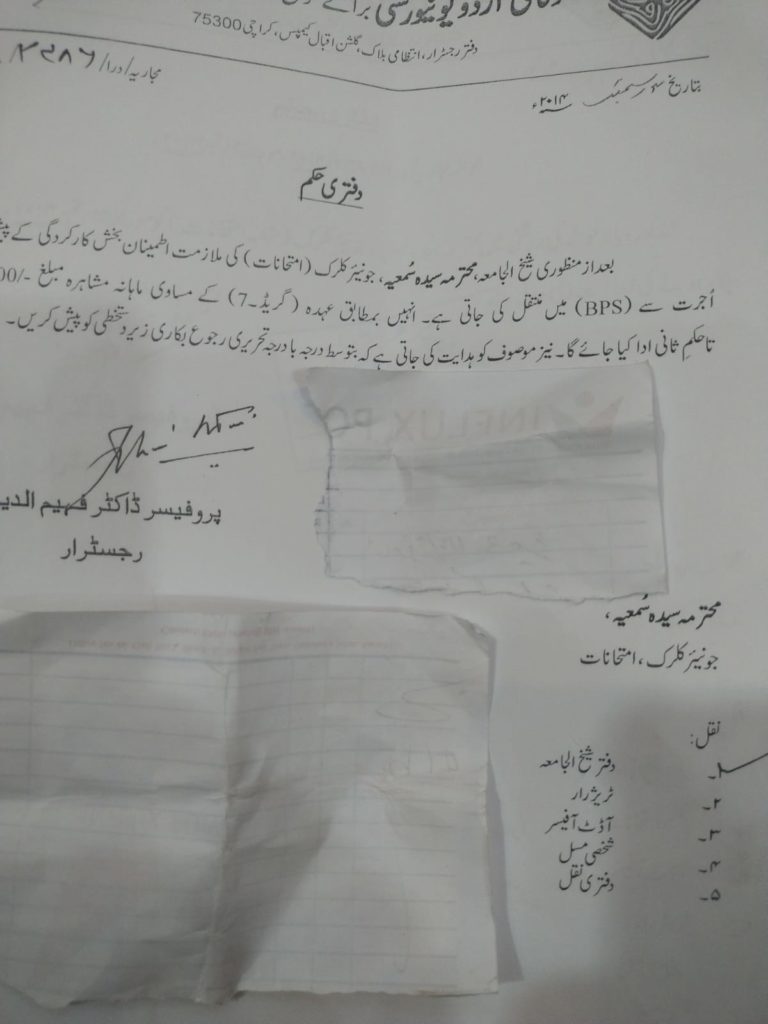 Surprisingly, the Vice-Chancellor of the University of Urdu, Dr. Athar Ata, joined on May 25 and now went on a long leave on July 3, which was not even fully adopted. Application through Education Reference No. VC / 3095/22 to the President of Pakistan, in which he presented a unique logic and said that he should be allowed to go to the United States and Canada from July 1 to July 20.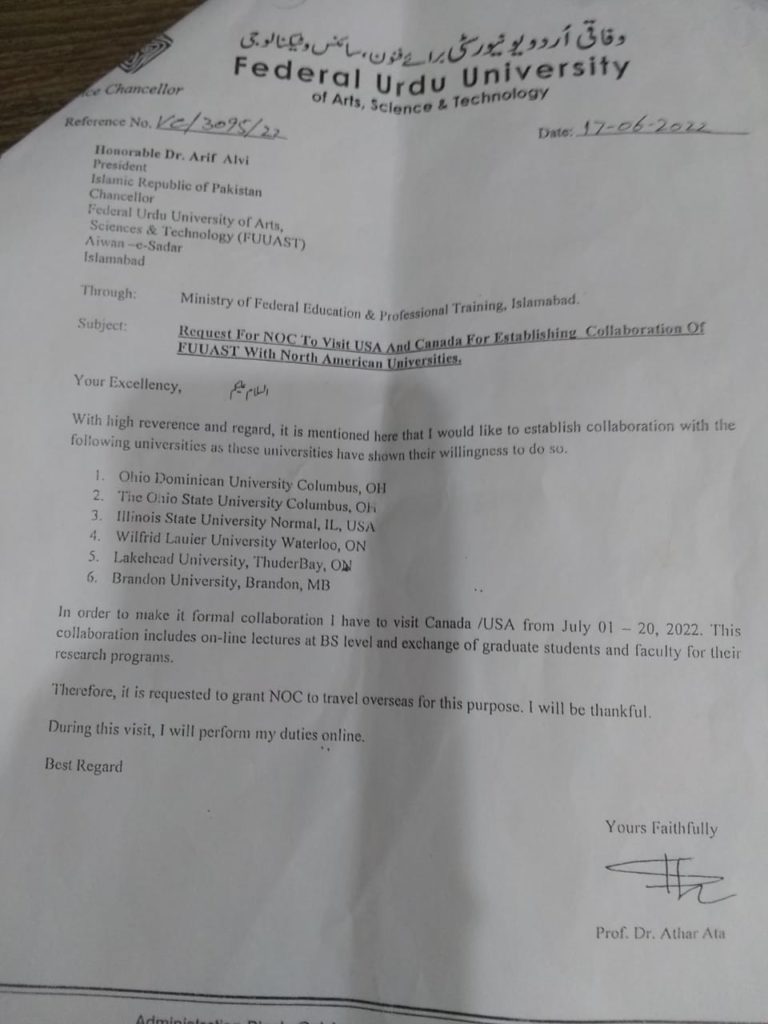 The applicant further states that the wishes have been expressed by Ohio Dominican University, Columbus, Ohio State University, Columbus, Ohio State University, Normal, Wolfred Liver University, Waterloo, Lakehead University, Thudder Bay and Brendan University, Brandon MB that they want to cooperate with the Federal Urdu University in various programs, to make it formal, he should be allowed to travel abroad.
Went on leave, which was not even fully adopted, Vice-Chancellor Athar Ata wrote to the President of Pakistan on June 17 through the Federal Ministry of Education under application reference number VC / 3095/22. Surprisingly, the head of the University of Urdu made an interesting excuse to go to Canada to celebrate Eid with his family, but he did not give any proof and also showed interest in these 6 universities for a university that has never been prominent in the rankings. Remained Commenting on the request for the holiday on social media, it was said that the excuses of the children are to go to the grandmother's house and the excuses to go to the Vice Chancellor's house are like expressing the desire of international universities to share with Jamia Urdu.
Leaving behind the former Vice-Chancellor, Rahim Bakhsh, Secretary to the Canadian Vice-Chancellor of the University of Urdu, Dr. Athar Ata, submitted a request to the Treasury Office in his own name seeking any law, principle, regulation, permission of the relevant authority, conditional permission. He wrote without quoting that VC is going to Canada and from there to the United States in collaboration with international universities, so he should be issued a one-way air ticket worth Rs. Rs595,000.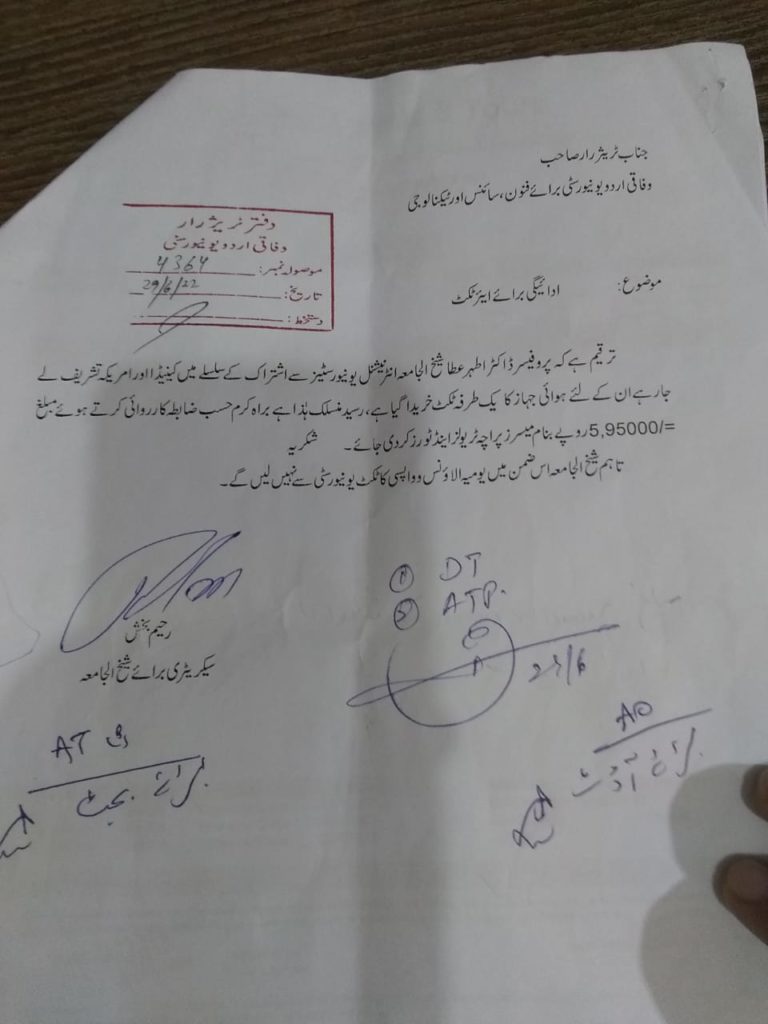 The question is being raised that if the VCs did not go to celebrate Eid with his children, they would have been issued a two-way ticket instead of a one-way ticket so that they would not have to pay a ticket worth more than his salary at their own expense. At present, a one-way ticket to Canada costs Rs. 340,000, so how was Rs. 595,000 were issued to him? While Prof. Dr. Athar Ata traveled from Lahore to Canada on July 2 on a ticket of Rs. 295,000 through Qatar Airways.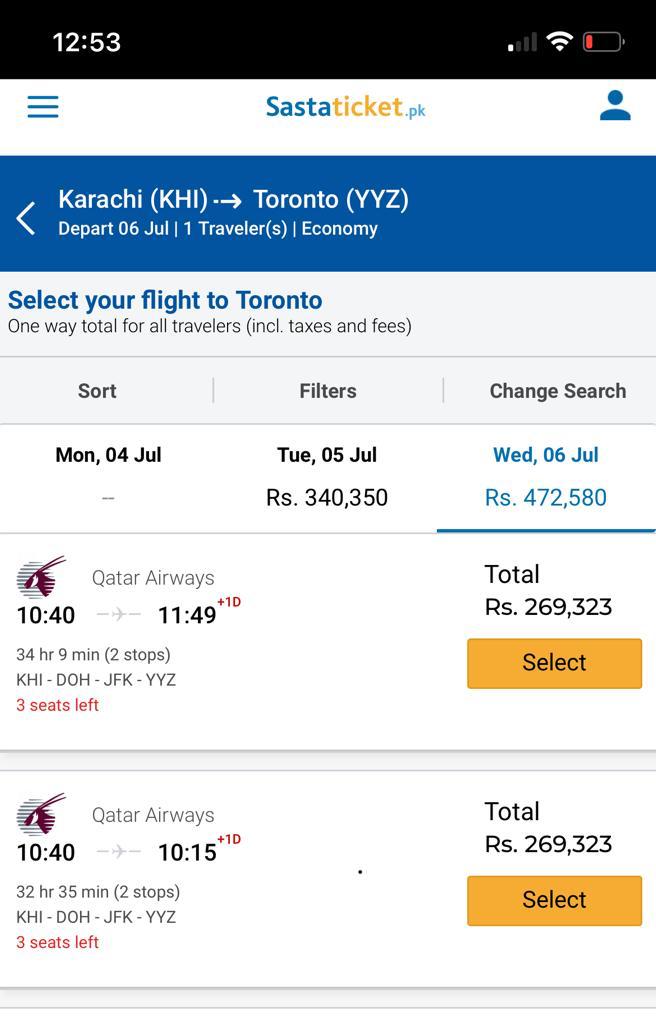 It should be noted that Prof. Dr. Athar Ata was not ready to come to the University of Urdu to a low salary as he was living in Canada with his family. With a salary of Rs1.2 million, he agreed to come, but when his appointment was notified, three months later, he joined on May 25, and a month and a week later, he returned to Canada with his children to celebrate Eid. Not even his salaries have been released, but allowances have also become a unique example of use.
Vice-Chancellor Dr. Athar Ata was contacted for comment but he did not receive the WhatsApp phone on which he was sent questions which will be published when the answers come.