Two-week typhoid conjugate vaccine drive begins in Sindh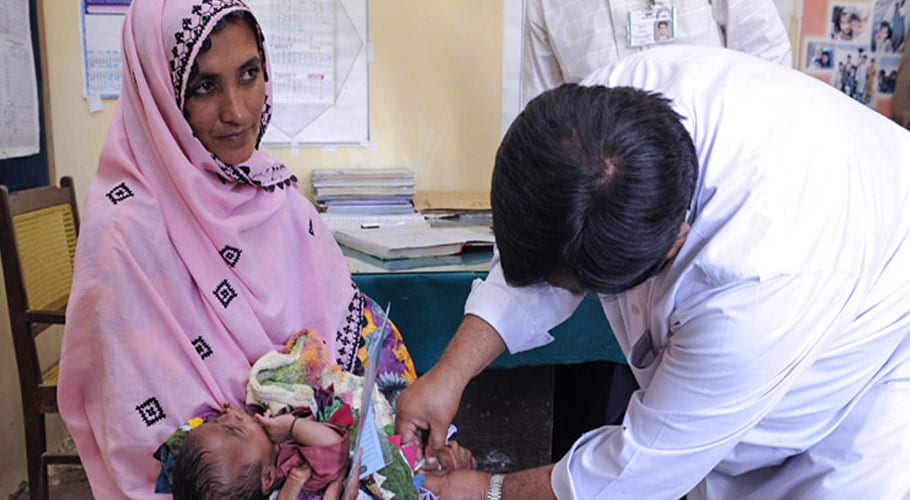 KARACHI: The government has launched a two-week typhoid conjugate vaccine drive across Sindh from today.
The campaign is scheduled to vaccinate over ten million children, aged between nine months to fifteen years.
Also read: Pakistan becomes first country to launch new typhoid vaccine
Earlier, Dr. Zafar Mirza, Special Assistant to the Prime Minister of Health had said, "We are starting with Sindh Province, where the need is most urgent."
According to a report published by the World Health Organization (WHO) in 2017, around 63 percent of typhoid cases and 70 percent of typhoid deaths in Pakistan were among children younger than 15 years of age.
Also read: Sindh govt to launch anti-rabies vaccine project in Karachi
Pakistan became the first country in the world to introduce the WHO recommended typhoid conjugate vaccine (TCV) into its routine immunization programme.
Sindh is one of the 4 provinces of Pakistan, located in the southeast of the country. 
More than 15,000 people have been affected in the current outbreak, the first-ever reported ceftriaxone-resistant typhoid outbreak. 
Also read: Three-day anti-polio campaign begins in Khyber Pakhtunkhwa
Typbar-TCV is a typhoid conjugate vaccine manufactured by Bharat Biotech International Limited. It contains purified Vi capsular polysaccharide of Salmonella enterica serovar Typhi Ty2 conjugated to a tetanus toxoid carrier protein.
The vaccine, that confers longer-term protection against typhoid, can be administered to children as young as 6 months.
Also read: World Polio Day is being observed around globe today