BFA seals two bakeries in Quetta for unhygienic conditions
Quetta: The Balochistan Food Authority has sealed two bakeries in Quetta for operating under unhygienic conditions. The BFA sealed Ramada Bakery and Chaman Bakery in Quetta's Nawah Kali on Wednesday

.
Nida Kazmi, Director Operations, Balochistan Food Authority supervised the raids on two bakeries in Quetta. She explained BFA had received several complaints from customers who suffered from food poisoning after eating the products of the bakeries. The operation team found rusty machines, low-quality products, and insects in the kitchen.
The team took swift action and sealed the bakeries. They have also warned other bakeries to improve their conditions. The bakeries operating in the area are required to follow the BFA compliance guidelines, added Nida Kazmi.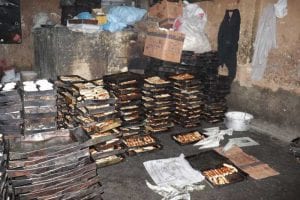 It is not the first time when food authorities took action against restaurateurs, bakers, or the local food suppliers. In past Punjab Food Authority has raided several outlets of renowned restaurants in Lahore and Rawalpindi. Similarly, the Food Authorities in Murree has also sealed several restaurants, hotels, and shut down their operations. The World Health Organization reports 2 million people to die annually because of consuming unhygienic and unsafe food. In 2018, the Punjab Food Authority sealed more than 1200 food outlets including restaurants, small bakeries, and food processing units. "The bacterial infections have remained a common element in the deaths of such individuals." Stated by W.H.O 2015 report.