Tunisian President replies to PM Imran's letter urging action on rising Islamophobia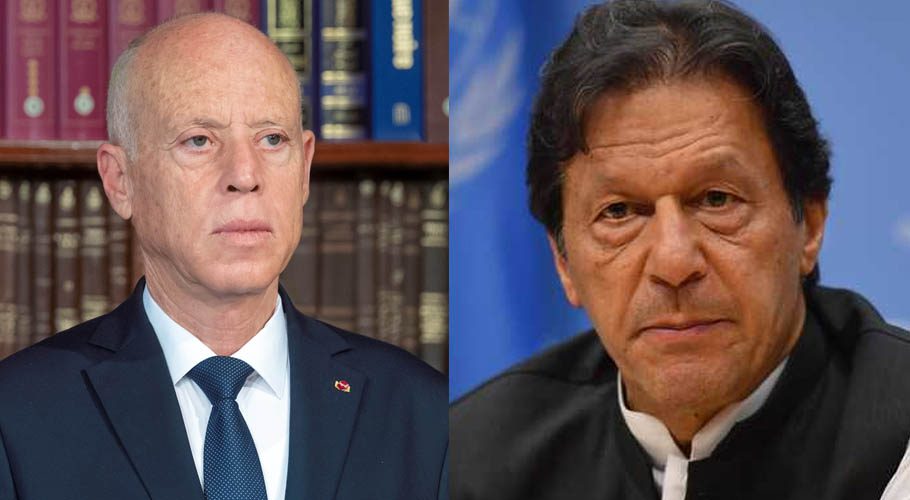 ISLAMABAD: Tunisian Ambassador to Pakistan Mr Borhene El Kamel paid a courtesy call on Prime Minister Imran Khan and discussed matters relating to bilateral relations and international issues
Prime Minister Imran Khan conveyed that Pakistan greatly valued its relationship with Tunisia, which is anchored in common faith, history and culture.
​It may be recalled that Prime Minister Imran Khan had addressed letters to the leaders of the Muslim Ummah highlighting the scourge of Islamophobia and the need for Muslim world to take it up in unison with the rest of the world.
During the meeting, the Tunisian Ambassador handed over a letter from President of Tunisia Kais Saied addressed to the prime minister in response to his letter.
The Prime Minister's letter sent to all the Muslim leaders had highlighted the need for urgent efforts to confront campaigns targeting Muslims and that Muslim Ummah should further strengthen channels of dialogue and coexistence between different religions.
A day ago, Prime Minister Imran Khan shared his 2020 letter sent to the leaders of the Muslim countries to act collectively to counter the growing Islamophobia in Western countries.
The prime minister shared the letter sent to the leaders of the Muslim world on October 28 last year, urging them to act over the increasing concern amongst Muslims over Islamophobia. The letter was shared in the wake of recent law and order situation in the country.
Prime Minister Imran Khan said that he will personally lead the campaign against such blasphemous actions and will gather heads of all Muslim states.
PM Imran Khan said that the government and Tehreek-i-Labbaik Pakistan (TLP) both wanedt to end blasphemous acts, however, they had different strategy and methods.
He said the TLP had earlier held demonstrations and took to the streets as the blasphemous acts were repeatedly made in different countries. He said such actions will not be stopped through severing diplomatic ties with France or the expulsion of its ambassador but by adopting a joint strategy by Muslim states.
PM Khan continued that another country could start continuing the act under the garb of freedom of expression if Pakistan adopted such decisions against France. He said there were no protests in 50 other Muslim countries but situation will affect Pakistan.