Traders stopped from re-opening shops in Karachi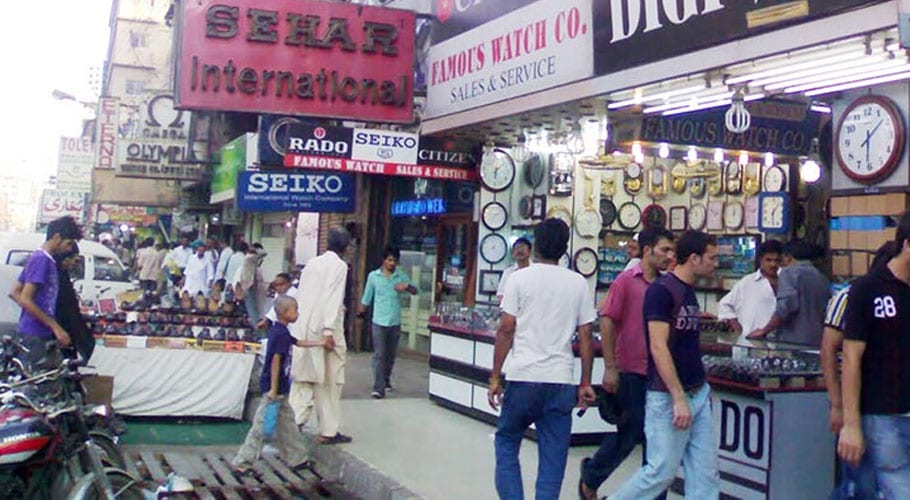 KARACHI: The traders have been stopped from re-opening their shops in Saddar during the COVID-19 lockdown.
The move comes after the announcement of Sindh Traders Alliance announced to open all markets across the province from today. A number of traders reached the Saddar mobile market and tried to open their shops, but they were refrained by the police from opening it.
The city police stated, "There is an ambiguity regarding the opening of the markets," the officials further stated by adding that shopkeepers would be allowed to open their shops if they receive a permission letter from the concerned authorities.
Earlier, addressing a press conference in Karachi along with other traders', Chairman of Sindh Traders' Alliance Jamil Ahmed Paracha said that the traders have already cooperated with the Sindh government amid coronavirus pandemic by closing all markers for 28 days. 
"The markets across the province would be opened from 15th April (today) as per decided," he said by adding that the traders' community has suffered a huge loss due to the lockdown.
Paracha further stated that owners were suffering to pay salaries to their employees because of zero sales, adding that if the lockdown was not lifted the traders would be forced to sack their employees.
The Alliance Chairman also announced that if the lockdown was not lifted, the traders' community would stage a sit-in in front of Sindh Chief Minister House.
Read more: Traders should make collective efforts to overcome challenges: Agha Shahab