Tips to help you stay fit in a busy routine
You might be too busy and not finding time to maintain a healthy lifestyle and workout, and you are thinking about it all the time.
However, you don't know where to begin, keep reading if you want to see how you can maintain your fitness with so much workload on your shoulders.
Here are some simple tips that help you to stay fit in your busy schedule:
1) Drink enough water
It is scientifically proven that drinking enough water is beneficial for weight loss and reduce belly fat. Always keeps a water bottle with you to say hydrated. Proper hydration boosts your metabolism, which will digest food more accessible and cleanse your body waste.
2) Focus on healthy eating
Focus on a balanced diet, bring homemade meals in the workplace, and avoid junk and unclean food. Your snacks should contain some nuts, seeds, fruits, vegetables, grains, or some low-fat yogurt; you can also have beans, chicken with rice, eggs, oatmeal, and the list goes on.
3) Get enough sleep
Getting enough sleep is as vital as having a balanced diet and regular exercise when your body and mind rested well; you'll be able to respond to life with a higher perspective. Avoid spending too much time on social media and computers. Getting a full night's sleep will also help you be more productive, deliver better work, and feel energized all day.
4) Try home workout options
Even if you are too busy, there are simple workout routines that will help you feel fit and healthy; it's not necessary to have a gym membership to get in shape. You can do abs workout at home, lunges, and squats, try 10 to 15 minutes cardio at your full capacity, stretching, walking, jogging, and yoga also help and if you have some free weights, add bicep and triceps workout as well. Even just a few minutes of exercises here and there will add a big difference to your health.
5) Try exercise at the workplace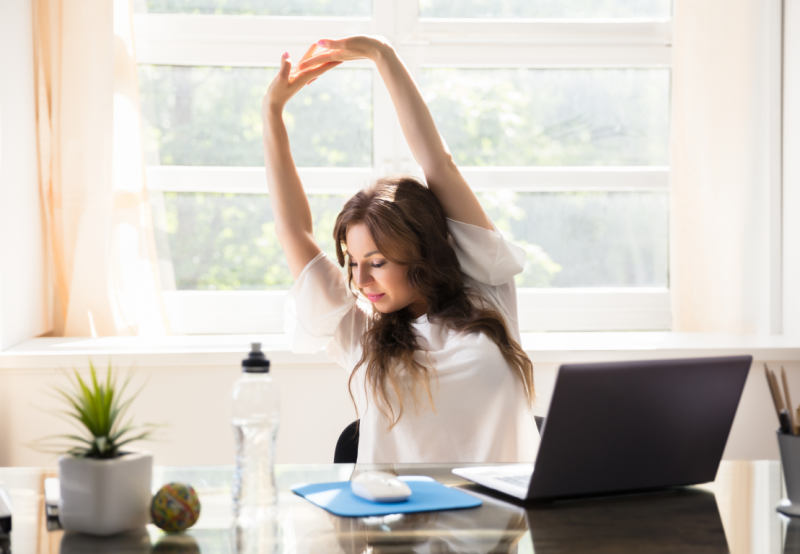 If you are too busy at the workplace and don't find time for a workout, then find ways to exercise in your daily routine of work. Try walking across the office to chat with a colleague, instead of sending an email. Take the stairs if you have to go to another floor, instead of lifts or elevators, you can stand instead of sitting. You can also try desk-friendly exercises in your office, Google office desk exercises and you get many ideas including chair squat, Desk pushup, Arm pulses, and more.
6) Avoid bad habits
To stay healthy and fit, avoid smoking, drinking, and all kinds of addictive drugs will destroy you physically and mentally, including pain killers and sleeping pills. Smoking is injurious to health and makes you prone to many diseases and harms your ability to work out. Also, avoid spending too much time on the computer and social media and overeating fast food.
Remember, a person with a healthy mind and body enjoys life to its fullest extent. Even if you are too busy, to achieve all your goals, you have to be fit physically and mentally. For this, you have to make time to exercise.