This 120-year-old clay model train in Saidpur has a rich history
In the suburban village of Saidpur on the outskirts of Islamabad, there is a 120-year-old handmade clay train. In 1901, Lal Mohammad Khan made this steam engine model of a train using clay with his bare hands which still stands today.
His son Niaz Mohammad Khan narrated the incident to MM news, saying his father built the mud train and displayed it at a fair for public viewing. A British officer also visited the fair but was not impressed to see a Muslim worker make a train without having any iron with such exceptional craftsmanship.
The Englishman ordered that his hands should be cut off. However, the officer's wife, who was also present, dissuaded her husband from taking the extreme step. She praised his skills and gave him money, telling him to leave or else her husband will order to chop off his hands.
"My father ran away from there and came home. The next day, a person came to our house again and told my father that he had been ordered to cut off his hand after three days," his son went on saying.
Meanwhile, a spiritual leader Pir Mehar Ali Shah expressed his desire to see the clay. He praised it immensely after seeing and asked Lal Muhammad for any reward as he wished.
Lal Muhammad pleaded "When I prepared this train, a British officer has ordered to cut off my hand. If there is any compassion, then my hands should not be cut off."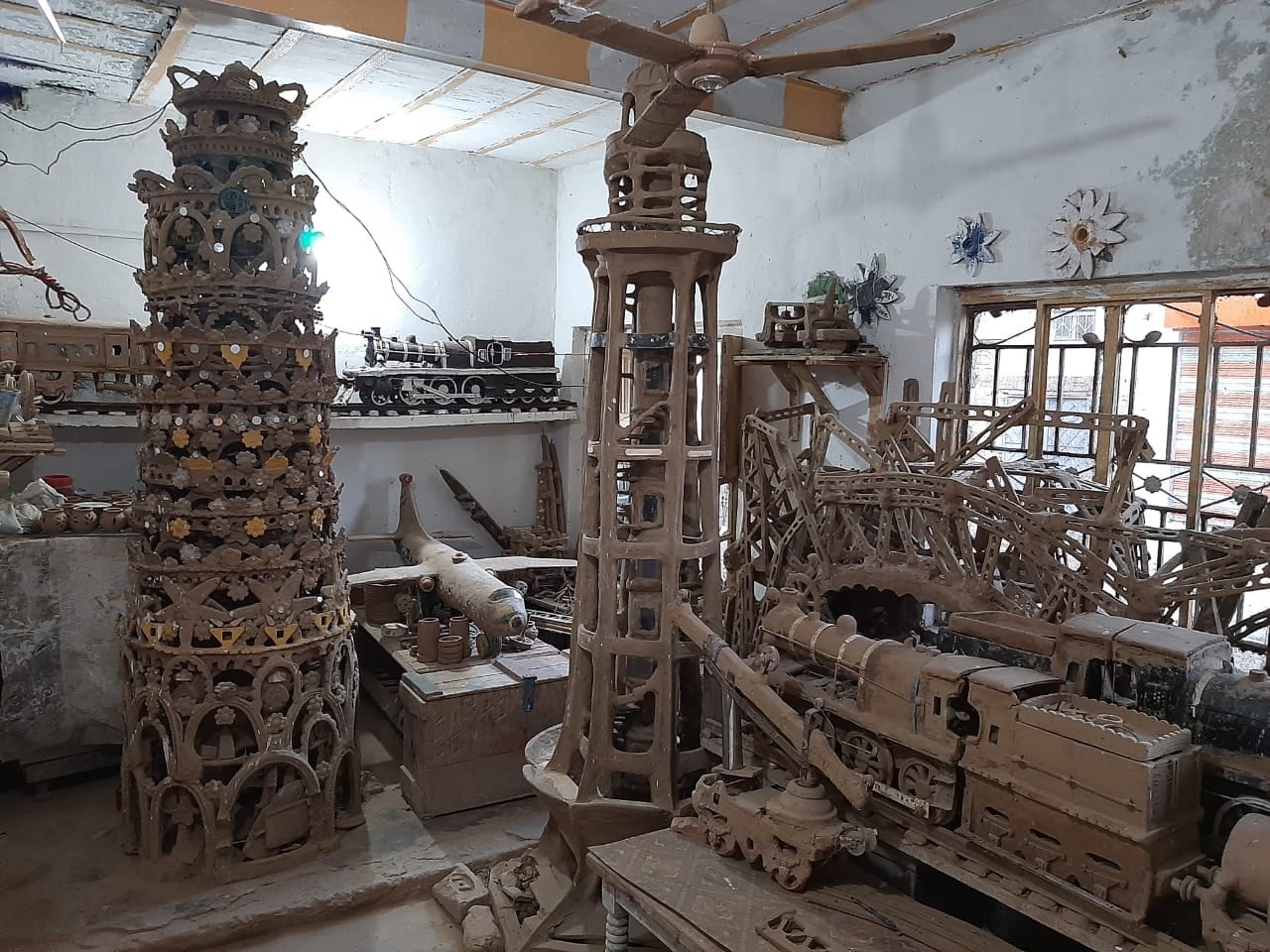 The spiritual leader met with the British officer and said that this train is not made of iron but all parts are made of clay. Then he showed him that the wheel of the train was broken. The British officer was satisfied and took an oath from Lal Muhammad that such a train would not be built in the future.
Niaz Mohammad Khan said that people from different countries have come to visit his train in the small town. He said even the prime minister of Lebanon came to see the train with his family and gave his father twenty thousand rupees as a reward at that time.
Niaz said he followed his father and even made a clay train ten years ago along with a clay platform. He has also built a replica of the Sukkur Bridge, Minar-e-Pakistan and Leaning Tower of Pisa in Italy. He has even made a replica of C-130 aircraft after he saw it flying.
Niaz expressed displeasure over the lack of support from the government. "If an artisan makes the same thing in another country, it will be well received. In our country, art and artist have no value," he lamented.
He said he has no source of income and has displayed the train and other clay items with a ticket of Rs 20 per person but no one comes to see them. He said that he learned the art from his father and wants to make the nation proud but is still grateful for the situation he is in.