SpaceX brings NASA astronauts home safely in milestone mission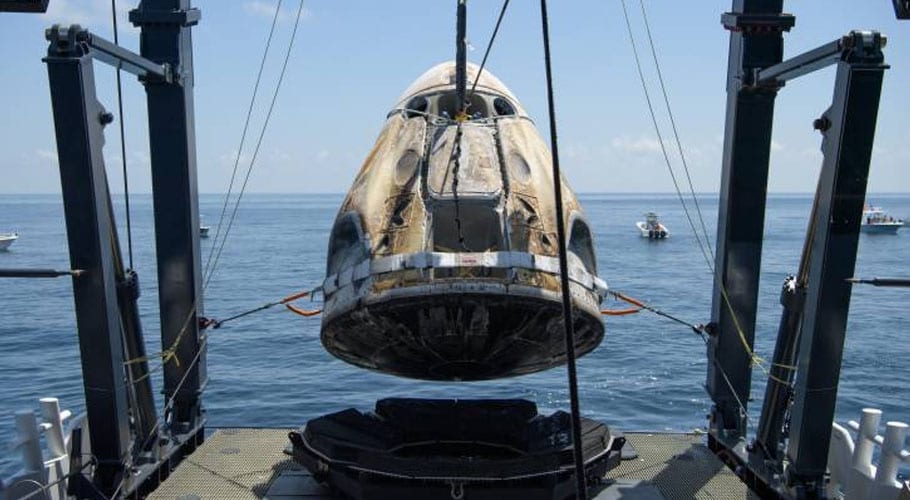 WASHINGTON: US astronauts who flew to the International Space Station in SpaceX's new Crew Dragon, splashed down in the Gulf of Mexico after a two-month voyage that was NASA's first crewed mission from home soil in nine years.
The successful mission, carried out jointly by SpaceX and NASA, demonstrated that the United States once again has the capacity to send its astronauts to space and bring them back.
SpaceX Crew Dragon Endeavors four main parachutes gently floated down to the water after the vessel landed off the coast of Pensacola at 2:48 pm.
It was the first water landing for a crewed US spaceship since the 1975 Apollo-Soyuz mission. Pilot Doug Hurley, one of two astronauts on board along with commander Bob Behnken, said: "It's truly our honor and privilege."
"On behalf of the NASA and SpaceX teams, welcome back to planet Earth and thanks for flying SpaceX," replied SpaceX s Mike Heiman, to laughter in the control room.
Read more: One killed, nine injured as helicopter crashes in Mexico
A number of civilian boats swarmed the landing zone as a recovery ship sped to the scorched capsule and brought it aboard. The hatch opening was briefly delayed as a team worked to stop a leak of rocket fuel vapor.
Around an hour after splashdown, the astronauts exited the capsule and now await a helicopter ride to shore, followed by a plane trip to Houston where they will reunite with their families.