Sindh govt should utilise Rs700bn allocated for Karachi: Asad Umar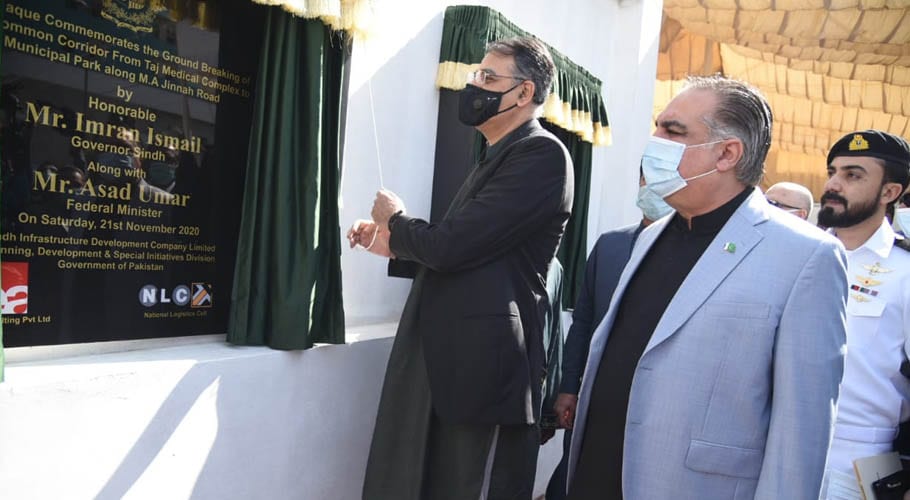 ISLAMABAD: Federal Minister for Planning and Development Asad Umar on Saturday said that the Sindh government should utilise Rs700 billion that have been allocated in the provincial budget for the projects in Karachi.
The federal minister was speaking to in Karachi after inaugurating development project of GL-16 at Numaish Chowrangi Underpass along with Governor Sindh Imran Ismail. He also laid the foundation of GL-20 project under which 108-kilometre common corridor will be constructed at a cost of Rs2.2 billion and will be completed in 2022.
The minister also unveiled the plaque to commemorate the groundbreaking of BRT Common Corridor from Taj Medical Complex to Municipal Park along M.A. Jinnah Road. The project has three lanes in each direction and was completed at the cost of Rs425 million in around two years.
He said that the Green Line project would be a milestone for a modern transport system in Karachi and was expected to be completed by the middle of the next year.
Speaking about the Karachi Transformation Plan, Asad Umar said that good progress is made on all the projects in Karachi . He said the federal government has expedited on the K-4 project, two projects of railways, Karachi Cicular Railway (KCR) and freight corridor from Karachi Port to Pipri.
He said that work was also underway on the cleaning of drains in Karachi and encroachments were being removed in the initial phase and the Sindh Government has started work from Mehmoodabad.
Speaking on the occasion, Sindh Governor Imran Ismail said that the inauguration of the first mass transit project of Sindh would be performed between July to September 2021 and Prime Minister Imran Khan was expected to perform its inauguration in Karachi. He said that fast pace work was being carried out on all the projects which have to be executed by the federal government in Karachi.
He said that he wanted to inform the people of Karachi that the prime minister was worried about the people of the city and was taking a keen interest in the development works of Karachi to facilitate the masses.
He said the prime minister regularly sent Asad Umar to Karachi to review the progress of ongoing development works He also congratulated the SIDCL for the dedication and untiring efforts in the execution of the development works.
Speaking about the development of Bundoo and Bundal islands, he said the matter was being discussed with the Sindh Government to address their reservations and development works would be done the province