Shares at PSX down 179 points amid political uncertainty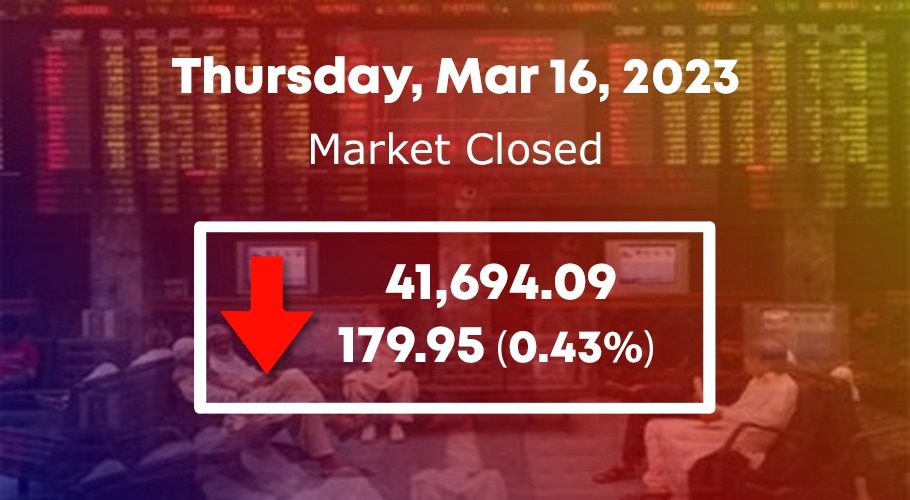 KARACHI: Pakistan Stock Exchange (PSX) declined by 179.95 points on Thursday, showing a negative change of 0.43 per cent, closing at 41,694.09 points against 41,874.04 points the previous day.
A total of 234,696,217 shares were traded during the day as compared to 233,271,322 shares the previous day, whereas the price of shares stood at Rs.7.462 billion against Rs. 8.441 billion on the last trading day.
As many as 341 companies transacted their shares in the stock market; 186 of them recorded gains and 128 sustained losses, whereas the share price of 27 companies remained unchanged.
The three top-trading companies were Telecard Limited with 14,286,000 shares at Rs.8.27 per share; Ghani Glo Hol with 11,906,682 shares at Rs.12.35 per share and Maple Leaf with 11,817,956 shares at Rs.27.02 per share.
JDW Sugar witnessed a maximum increase of Rs.24.76 per share price, closing at Rs.356.09, whereas the runner-up was Archroma Pak with an Rs.20.00 rise in its per share price to Rs.445.00.
Nestle Pakistan witnessed a maximum decrease of Rs.180.00 per share closing at Rs.5,115.00; followed by Pak Services with Rs.129.03 decline to close at Rs.1,591.47.