Shahid Afridi buys Bangladesh cricketer's bat for coronavirus relief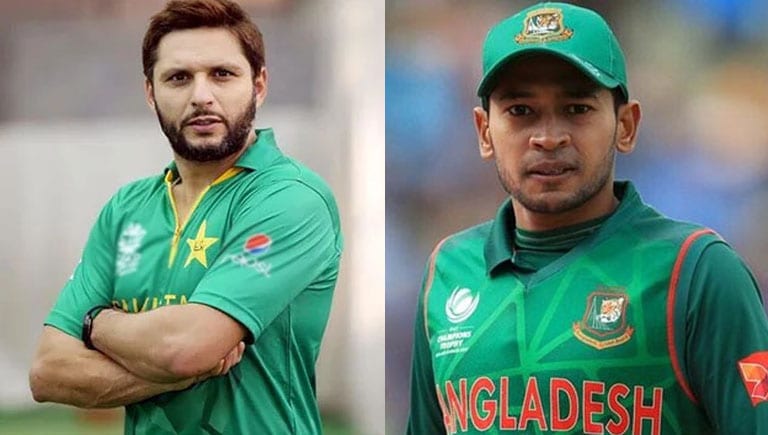 DHAKA: Former Pakistan cricketer Shahid Afridi has bought Bangladesh batsman Mushfiqur Rahim's bat which he had placed for auction to raise money coronavirus relief efforts.
Mushfiqur has used the bat during a Test match when he scored 200 runs against Sri Lanka in Galle back in 2013. The auction had run into trouble after fraud bidders had flooded the process last week.
According to Mushfiqur, who went live on Facebook to make the announcement, Afridi made his bid on May 13 after reading about the bat going up for auction. He also mentioned that Tamim Iqbal played a role in Afridi buying the bat for charity.
"Shahid Afridi bought my bat on behalf of his foundation," Mushfiqur said. "I feel privileged and honoured that someone like him has joined our great cause. We had to suspend the auction due to some fraud bidders which was unexpected."
Thanks for your support brother ✊✊✊ pic.twitter.com/QeLiJBx0nY

— Mushfiqur Rahim (@mushfiqur15) May 15, 2020
The Bangladeshi batsman said Afridi contacted him after seeing the news of the auction and sent him a letter stating that he was interested in buying the memorabilia for $20,000, which is almost BDT1.68 million. He thanked everyone who was concerned particularly his teammate Tamim Iqbal, who "helped him a lot in this regard."
Afridi appreciated the splendid philanthropic works being done by Mushfiqur Rahim for his country. "Real life heroes do such things. We are going through a critical phase and need each other during such times," he said in a video released on Twitter.
He added that he will remember the love and support he received from the people of Bangladesh. "I want to be a part of your journey by purchasing the bat. We will rid the world of this disease very soon and we shall meet in the cricket ground," he said.
The proceeds will go to the NGO BRAC for cash disbursement among the poor while Mushfiqur will donate some amount to a charity of his choice. A spokesperson of BRAC told a Dhaka-based newspaper that the proceeds from this venture will go to a fund through which the organisation is disbursing 1,500 takas cash incentives per family affected by the pandemic.
Cricket is to bind. In the divisive world of today, we must look forward to better tomorrow; its always upto us to take 1st step. @SAFoundationN believes human suffering & empathy is beyond borders.Hope this small token will help building bigger bridges.#DonateKaroNa #HopeNotOut pic.twitter.com/cGN6W5ItTG

— Shahid Afridi (@SAfridiOfficial) May 15, 2020