Rupee strengthens by Rs 0.21 against dollar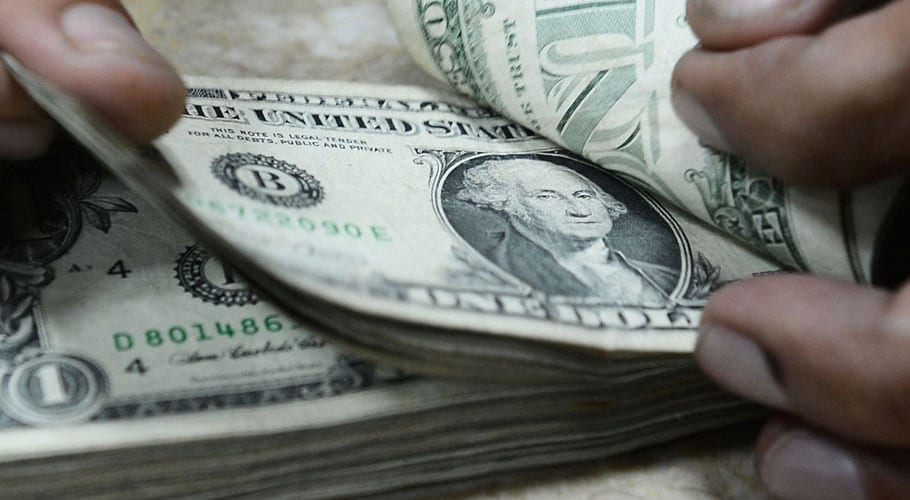 KARACHI: The exchange rate of Pakistani rupee on Thursday increased by Rs0.21 against the US dollar.
The greenback is currently trading at 166.55 against the domestic currency at the interbank foreign exchange market. The dollar had finished at Rs166.76 against the local unit the other day.
The dollar fell against most currencies on Thursday as a rally in riskier assets such as global equities and commodities put a dent in safe-haven demand for the US currency.
The euro could get a further boost later in the day as Germany is scheduled to release export data. Economists expect shipments from the euro zone's largest economy to rebound sharply in May from a large decline in the previous month.
Moreover, the Federal Bureau of Statistics (FBS) has released trade figures for 2019-20, according to which the trade deficit has come down to 23 23 billion.
That's 10 billion less than last year's 31 billion trade deficit. Between July 2019 and June 2020, the trade deficit decreased by 27.11 percent.
In one year, the trade deficit stood at 23.18 billion, while exports declined by 6.84 percent. Pakistan's exports have reached 21.38 billion and imports have declined by 18.61 percent. Imports from July 2019 to June 2020 were 44 44.57 billion.
Imports fell 10 10.2 billion during the last fiscal year. In June 2020, the trade deficit decreased by 19.89 percent.
In June 2020, the trade deficit stood at Rs 2.12 billion. In the last month of the last financial year, exports have declined by 6.52 percent. Exports reached 1.59 billion in June. Imports fell 14.66 percent to  3.71 billion.