'Resign or face long march': PDM gives Centre Jan 31 ultimatum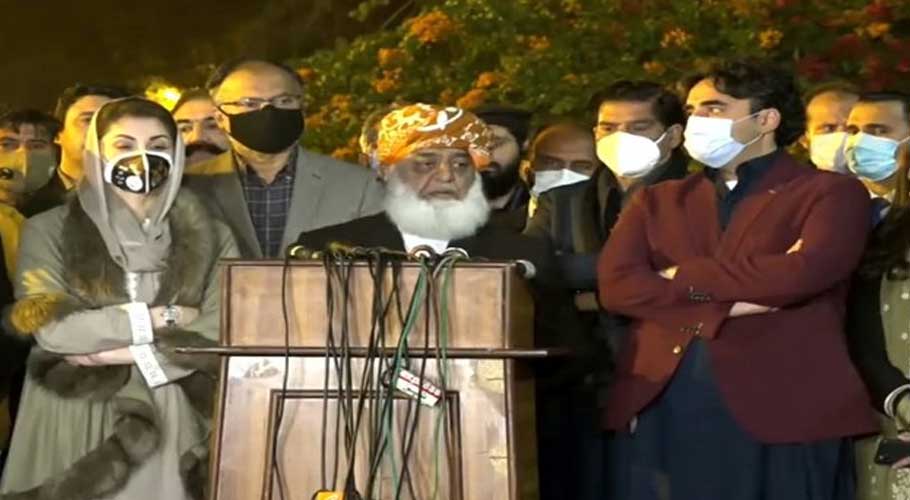 LAHORE: Pakistan Democratic Movement (PDM) has given the Imran Khan-led government an ultimatum to resign by January 31 or else faced a long march, which date will be announced on February 1.
"Today, we want to make it clear: The government should resign till January 31. If it does not, then the PDM will march on Islamabad," announced JUI-F chief Maulana Fazlur Rehman, while addressing a joint press conference in Lahore.
The news conference was held following a consultative session of the opposition alliance on Monday. The development comes a day after the PDM held a massive rally in Lahore.
The JUI-F Chief also appealed to the people of Pakistan to start preparations for the long march from today. "The schedule for the long-march given to the provincial leaders of PDM by the alliance's steering committee will remain unchanged," he remarked.
He also asked the lawmakers of the opposition parties to submit their resignations with the party leadership by December 31. "All opposition parties have signed a historic declaration against the PTI-led government in today's meeting," he announced.
Referring to Prime Minister Imran Khan's remarks of not giving an NRO, he said, "The Prime Minister is making such statements as he is under pressure." Furthermore, the PDM chief said history would remember Lahore's jalsa, just like it remembers the one held in the same place in 1940.
On the occasion, Pakistan Muslim League-Nawaz (PML-N) vice president Maryam Nawaz has rejected the media reports that she expressed displeasure over party leaders for not being able to gather a large number of people at Minar-e-Pakistan.
"Despite extreme temperature and government, people in huge number attended Sunday's power show. I have never seen such a jalsa where people had participated with such enthusiasm," she added.
Maryam Nawaz further said that the government, after getting reports from the Law Enforcement Agencies (LEAs), must be bawling over the attendance that of yesterday's public rally.
Meanwhile, PPP chairman Bilwal Bhutto Zardari reiterated that the time for dialogue with the government had passed and opposition parties will not backtrack from their demand of Prime Minister Imran Khan's resignation.
Responding to the question regarding differences within his party, Bilawal Bhutto claimed that all leaders including him will be bound to accept the decision of party's Central Executive Committee (CEC).