PSX surges as KSE 100 index gains 322 points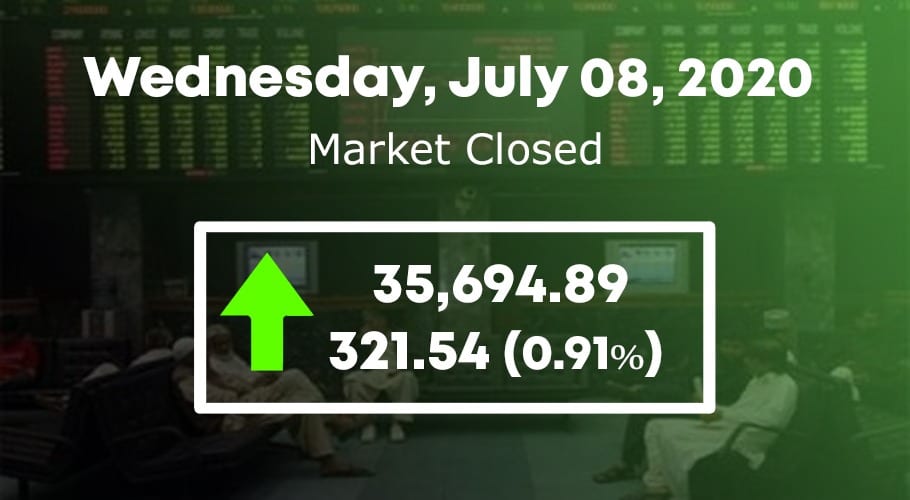 KARACHI: The Pakistan Stock Exchange (PSX) surged on Wednesday after two days of flat and range bounding trading sessions.
The benchmark KSE 100 index observed a healthy gain of 321.54 points and closed at 35,694.89 points. The indices kept from rising as trading resumed and reached its intra-day high of 35,703.22 points. The total volume of shares were 205.986 million valued at Rs10.6 billion
The lower bench KSE 30 index closed at 151.45 (0.99%) and closed at 15,432.74 points. The total volume of scripts were 140.391 million. The KMI 30 gained 208.88 points and closed at 56,880.55 points, while the All-Share Index gained 201.47 points and closed at 25,562.78 points.
The top active stocks were TRG Pakistan (TRG 7.09%), Pak Elektron (PAEL 2.74%), and Maple Leaf Cement Factory (MLCF 0.85%), The total volume of shares were 38.34 million, 26.611 million and 17.504 million.
The share prices of other top active increased and ended in the green. This includes JSCL (3.34%), WTL (6.06%), Lottee Chemical (LOTCHEM 3.80%), DGKC (2.44%), Hacol (0.42%) and BOP (3.10%).
The top contributor to the KSE 100 index were commercial banks which gained 168.50 points. The highest change in market capitalization was seen in the paper and board sector (4.59%).