President Alvi signs summary to appoint Lt Gen Asim Munir as new COAS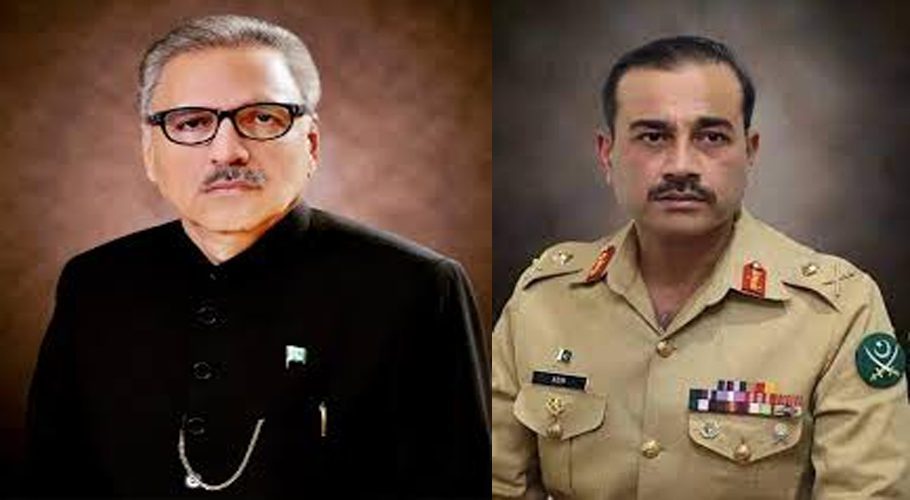 ISLAMABAD: President Arif Alvi has signed summary forwarded by PM Shehbaz Sharif on the appointment of new army chief General Asim Munir and Chairman Joint Chief of Staff Committee (CJCSC) General Sahir Shamshad.
Earlier today Prime Minister Shehbaz Sharif  has decided to appoint Lieutenant General Asim Munir as new Chief of Army Staff (COAS) and Lt Gen Sahir Shamshad Mirza as the chairman of the Joint Chiefs of Staff Committee (CJCSC).
Information Minister Marriyum Aurangzeb made the announcement on Twitter, saying the premier had made the choice while exercising his constitutional powers. She further said that Lt Gen Sahir Shamshad Mirza had been picked as the chairman of the Joint Chiefs of Staff Committee (CJCSC).
The information minister added that the summary of the appointments has been sent to President Arif Alvi for ratification.
Speaking to the media minutes after the announcement was made, Defence Minister Khawaja Asif said the "advice" had been forwarded to President Arif Alvi.
He said that all matters had been settled according to the law and the Constitution, calling on the nation to refrain from viewing it through a "political lens".
He expressed the hope that the president would not make the appointment "controversial" and would endorse the advice of the premier.