PPP to replace CM Sindh, Nasir Shah emerges as top candidate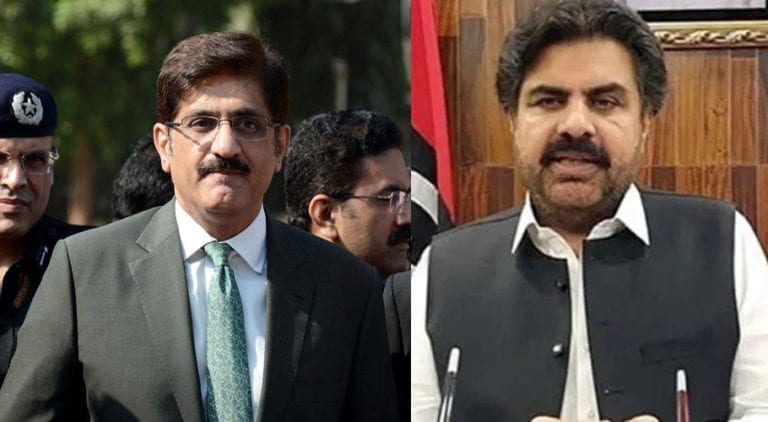 KARACHI: The Pakistan People Party (PPP) has decided to replace Sindh Chief Minister Murad Ali Shah and Nasir Hussain Shah has emerged the leading candidate to replace him.
Sources informed that Nasir Hussain Shah, Faryal Talpur and Speaker Sindh Assembly Agha Siraj Durrani are among the top three figures who could replace the chief minister.
Nasir Hussain Shah, who is currently serving as Local Government and Information Minister, is likely to replace the chief minister. The party has also considered the name of Education Minister Saeed Ghani but the prospects of him assuming the top post appear low.
The chief minister has submitted his resignation to the PPP and has left abroad. Sources informed that Murad Ali Shah is unlikely to return in order to evade arrest in a contempt of court case and other corruption allegations.
The PPP is mulling over his replacement as the chief minister does want to be arrested. He has reportedly informed the party leadership that his resignation can be accepted at the party's discretion. Sources also informed that chief minister went a personal visit to meet his son.
PPP chairman had hinted at dissolving at dissolving the Sindh Assembly as part of the Pakistan Democratic (PDM's) struggle against federal government. More than sixty members of the PPP have already submitted their resignation to Bilawal House.
It is the prerogative of the Chief Minister to dissolve the assembly and his presence is essential. If Murad Alii Shah is replaced before the dissolution, then the decision to dissolve the provincial assembly will be the responsibility of his replacement.