Police attempting to declare abducted minor girl as an adult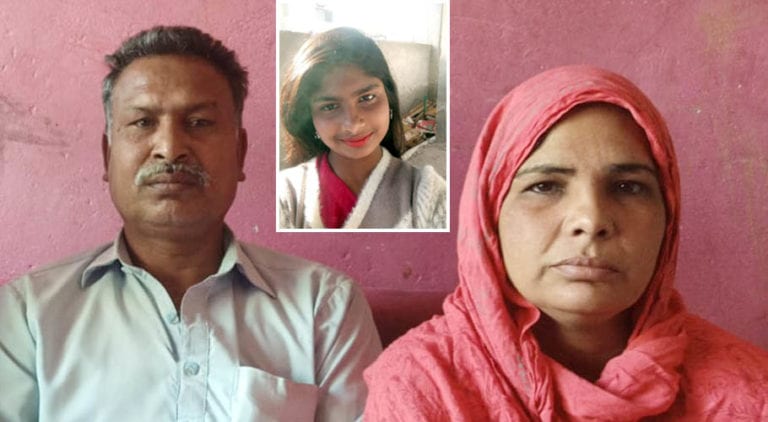 RAWALPINDI: The parents of a minor Christian girl, who has allegedly been abducted, have accused the police of non-cooperation and siding with the perpetrators.
Anwar Masih and his wife Nasreen said their 12-year-old daughter, Fatima Masih, was abducted on May 6 by an influential man named Amjad hailing from Jhang. A police report was filed at the Airport police station after the passage of several weeks.
The parents have now said that police are attempting to declare their daughter as an adult and that she has eloped from their house to get married. They said their daughter was a minor but a lady police constable has informed them their daughter has been solemnised into marriage and her statement has even been recorded.
The parents said the police have not assisted them in any regard and they are now convinced that law enforcers are supporting the criminals. They further said the main suspect, Amjad, and his family have threatened and pressurised them to withdraw the case.
READ MORE: Minor Christian girl abducted in Rawalpindi
They alleged that Amjad has earlier abducted another daughter as well and demanded that they should be returned. They added that the police has now threatened their minor daughters and forcibly received a statement from them.
The mother of the abducted girl was inconsolable when asked about her missing daughter. She appealed to Prime Minister Imran Khan and Punjab Chief Minister Usman Buzdar to recover their daughter and hand her over to them.
She threatened to take drastic measures if her daughter was not returned. She also urged that they should be provided justice and the perpetrators should be given exemplary punishment.
She said that police had filed an FIR on May 24 but now their conflicting statements are beyond comprehension and casts doubts over their investigation and raises new questions.