PM Khan says institutions enjoy unprecedented harmony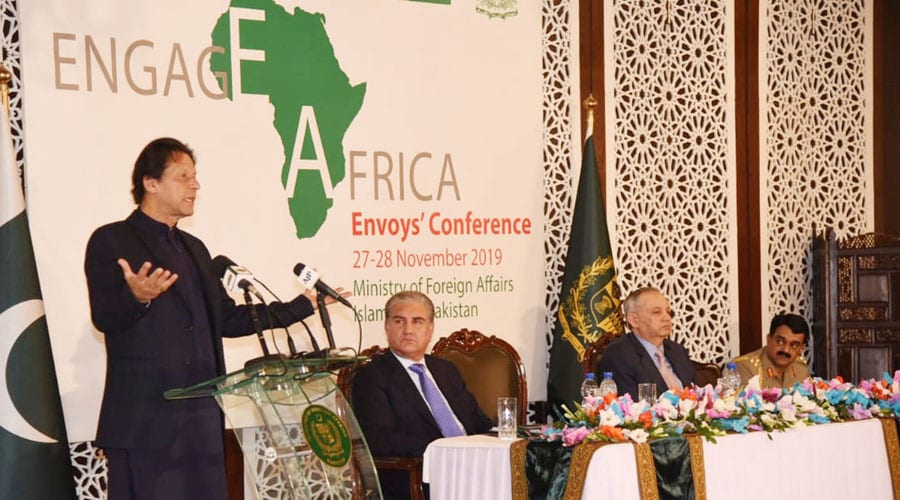 ISLAMABAD: Prime Minister Imran Khan has expressed resolve to extend all possible cooperation in strengthening institutions including the judiciary.
Addressing the concluding session of the Envoys Conference titled Engage Africa, the prime minister said the enemies of the country were expecting a clash between institutions in Pakistan, but they should know that the institutions enjoy unprecedented harmony.
He said Pakistan's democracy has become mature, where institutions do not clash with one another. He said his party, Pakistan Tehreek-e-Insaf, has a history of twenty-three years struggle for independence of the judiciary. He said anti-Pakistan forces get defeated today.
READ MORE: PM Imran Khan hails SC verdict on Gen Bajwa's extension
Regarding better engagement with the African countries, the prime minister said it is time to concentrate on this region and the government should utilise its full potential to bring investment and remittances to Pakistan and enhance exports.
He said the African continent was neglected in the past which reflects our mindset. He said now things have changed and PTI-led government is pursuing an independent foreign policy in the best interest of Pakistan.
READ MORE: SC grants six months extension service to COAS Bajwa
He emphasised on improving performance of the press attaches abroad for better communication to ensure better understanding between Pakistan and other countries.
He said government believes in meritocracy without which no society can progress. He added that the government has appointed an outstanding diplomat, Munir Akram, to represent Pakistan in the United Nations.
PM Imran Khan said Pakistan is playing a role of reconciliation among various countries like in Afghanistan. He said Pakistan has better relations now with several countries including Iran, Saudi Arabia, Turkey, and Malaysia.