PM Khan meets Chinese businessmen in Beijing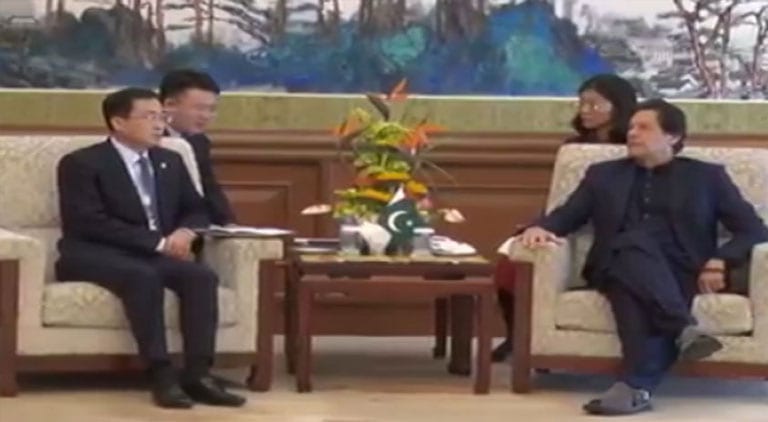 BEIJING: Prime Minister Imran Khan has met several Chinese businessmen and investors during an official visit to China and discussed investment opportunities in Pakistan.
Chairman China Gezhouba Group Lyu Zexiang called on Prime Minister in Beijing and discussed cooperation in the energy sector. The Chinese Group showed keen interest in exploring new business avenues in Pakistan especially in the energy sector.
Foreign Minister Shah Mahmood Qureshi, Minister for Planning Makhdoom Khusro Bakhtiar, Minister for Railways Sheikh Rashid, Adviser on Commerce Razaq Dawood, Special Assistant on Petroleum Nadeem Babar and Chairman Board of Investment (BOI) Zubair Gilani were also present in the meeting.
The China Gezhouba Group Corporation (CGGC) is one of the most competitive listed companies with very strong financing capabilities. The Chinese group has expanded its business in more than one hundred countries and regions.
In a separate meeting, the CEO of Long March Tyre Company, Li Qingwen met Prime Minister Imran Khan. The company is a member of the Lianoning Tyre Group and is one of the best tyre manufacturers.
Later, the Chairman of Orient Holdings Group Limited Jiang Xueming called on Prime Minister Imran Khan in Beijing today. Orient Group has business areas involving infrastructure construction, real estate development, construction materials, chemical fibre, mining, e-commerce, new materials and intelligent manufacturing, etc.
PM Khan has invited the Chinese companies to invest in diverse sectors of Pakistan including housing, textile, manufacturing, IT and financial services, physical and technological logistics, agriculture, oil and gas, and tourism and hospitality.
Earlier speaking at China Council for Promotion of International Trade, the prime minister said Pakistan is opening up for the businesses and it is great time for the Chinese companies to invest in the country.
He assured that the prime minister office will be dealing with all the major investments including those of the CPEC. The prime minister said the government has established CPEC Authority to resolve all the problems coming in the way of the implementation of corridor-related projects.