PM Khan departs after concluding China visit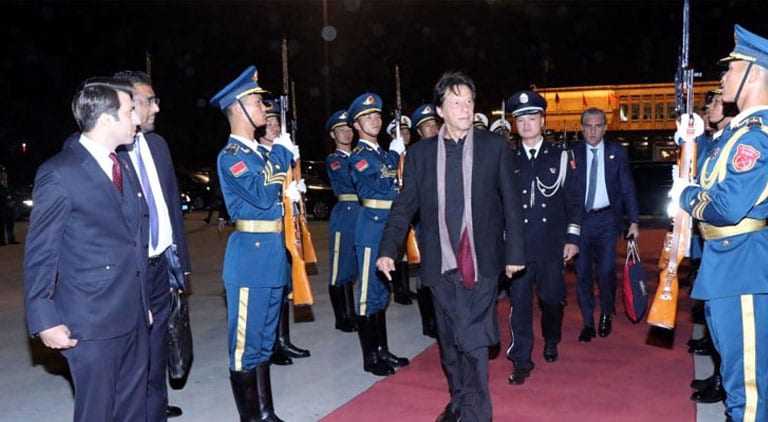 BEIJING: Prime Minister Imran Khan has left for Islamabad after concluding his two-day official visit to China.
He was seen off by Chinese Vice Minister for Foreign Affairs Luo Zhaohui, Ambassador of China to Pakistan Yao Jing and Ambassador of Pakistan to China Naghmana Hashmi. Tri-Services Static Guard was presented to the prime minister by a smartly turned out contingent upon departure from Beijing.
Prime Minister Imran Khan met Chinese President Xi Jinping and exchanged views on a wide range of bilateral, regional and global issues. He assured that completion of the China-Pakistan Economic Corridor (CPEC) was the top priority of the government which would help national and regional development progress.
He also met with Chairman National People's Congress Li Zhanshu at the Great Hall of the People. Yesterday, the prime minister held a seperate meeting with Chinese Premier Li Keqiang.
Earlier, Prime Minister Imran Khan attended the closing ceremony of International Horticulture Exhibition 2019 in Beijing accompanied by ministers in his entourage and senior officials.
The prime minister had also attended the opening ceremony of the Horticulture Exhibition in April this year when he visited China for the 2nd Belt and Road Forum.
PM Imran Khan was received by Premier Li Keqiang at Beijing Horticulture Exhibition. The Exhibition was co-organized by the Central Government of China, the Beijing Municipal Government and the Bureau of International Horticulture Exhibition to demonstrate the application of most advanced technologies and showcase the progress China has made in the development of both horticulture and ecological civilization. The exhibition also featured horticultural achievements from all over the world.