PM Imran will complete five-year term with great success: Sheikh Rashid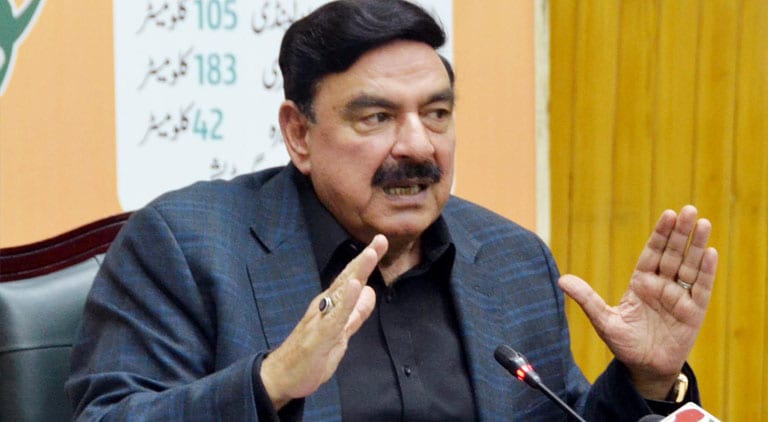 PESHAWAR: Interior Minister Sheikh Rashid Ahmed has said he was confident that Prime Minister Imran will complete his five-year term with great success.
Addressing a press conference during a visit to Torkham, the interior minister Commenting on Prime Minister Imran Khan's efforts said Imran Khan was constantly waging a battle with the sugar, flour and other mafias.
Commenting on the Senate elections, the federal cabinet decided to seek the guidance of the Supreme Court of Pakistan through a show of hands. "Our aim is to ensure transparent and credible elections of the upper house," he added.
The minister further said that a bill has also been introduced in the parliament regarding the Senate elections with the aim to check the horse-trading. 
He also welcomed the Pakistan Peoples Party's decision to participate in the upcoming Senate elections, adding that he was hoping the Pakistan Muslim League – Nawaz (PML-N) will also change its mind.
As for Jamiat Ulema-e-Islam – Fazl (JUI-F) chief Maulana Fazlur Rehman, Sheikh Rashid said the JUI-F chief had no seat in the parliament and was irrelevant. "He is attempting to lead the PDM into a dead alley," Rashid added.
Replying to a question, the interior minister replied that wise politicians never close the doors for dialogue, adding that dialogs with the PDM were bound to happen, either today or tomorrow, but will certainly happen.
Rashid said PML-N supremo Nawaz Sharif's passport is expiring on February 16th and will not be renewed after that. All resources and efforts were being made to bring Sharif back to the country, he said, but not much can be done in the nonappearance of an extradition treaty between Pakistan and Britain.
He said that the situation in Khyber-Pakhtunkhwa (K-P) was ideal and anybody saying anything to the contrary was spreading propaganda. K-P and the Pakhhtuns have made countless sacrifices in the war against terrorism, the minister added.
He also informed there was a serious threat coming in from the western border but the Pathans never surrendered and faced the threat head-on, making countless sacrifices in the process.
Sheikh Rashid also spoke about the minorities, saying, "It is our government's responsibility to safeguard the rights and lives of the minorities, and will continue to do so."
Earlier,  the PPP surprised everyone with the announcement of contesting the upcoming Senate elections, PML-N vice-president Maryam Nawaz said that she would listen to recommendations from chairman Bilawal Bhutto-Zardari himself, adding that the decision to take part in by-elections or Senate polls would be taken with mutual consultation.