Pakistan's Saadi Abbas wins gold medal in South Asian Games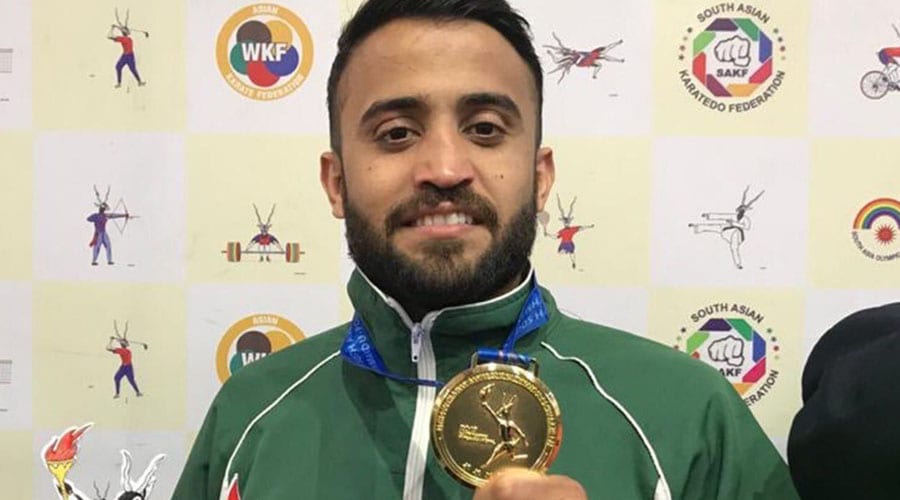 ISLAMABAD: Pakistan's Saadi Abbas won the 84kg Karate event on Tuesday to help the country bag their second gold of the ongoing 2019 South Asian Games in Kathmandu, Nepal.
Minister for Inter-Provincial Coordination Dr Fahmida Mirza lauded Saadi Abbas for winning a Gold Medal in Men's Karate championship.
The minister emphasised that the diligence with which he pursued his sports career and excelled at all levels is definitely an inspiration for all of us.  She reiterated that his win is extremely special for the country."You made us proud," she said.
Federal minister is visiting Kathmandu to attend the opening ceremony 13th South Asian Games being held there. Mirza is on a 3-day visit to Nepal.
The performance of Pakistan's contingent is consistently outstanding. Pakkistan have 27 medals including 4 gold, 11 silver, and 12 bronze medals.
Alhamdulilah won Gold medal at 13th South Asian Games! Very proud to raise Pakistani flag around the world, worked hard to finally see this movement #saadiabbaskaratechampion#proudmovement#nevergiveup#startyourimpossible#magnussports#13thSouthAsianGames pic.twitter.com/5c06002cvD

— SAADI ABBAS (@Saadiabbas75) December 3, 2019
Today, the volley ball team won Silver Medal in match against India. In shooting team event, the Pakistani team gave exceptional performance and won Gold Medal for the country. Earlier on Monday, Pakistan's karateka Shahida won the first gold medal for Pakistan in the single kata event.
Nepal are sitting comfortably on the top of the table with 44 medals which include 23 gold, nine silver and bronze bronze medals. India are second with 40 medals, including 15 gold, 16 silver and nine bronze medals.
Sri Lanka are third having more total medals than Nepal and India, but lag behind due to the number of gold medals. The Islanders have five gold, 14 silver and 27 bronze medals to their name at the moment.
Pakistan is followed by Bangladesh, Maldives and Bhutan on the fifth, sixth and seventh spots. The Games conclude on December 10 where Pakistan have fielded 305 athletes in different sports.